ABBATH – Outstrider – November 5, 2019
Posted on November 5, 2019
More information about Outstrider
Norwegian black 'n' roll titans ABBATH will be returning to North America in 2020 as part of the Decibel Magazine tour along with MAYHEM. The full itinerary can be found below.
The dates will also include an appearance at Decibel Magazine Metal and Beer Festival in Philadelphia, PA on April 3. The tour will kick off on March 13 in Denver, CO and will conclude on April 10 in Chicago, IL.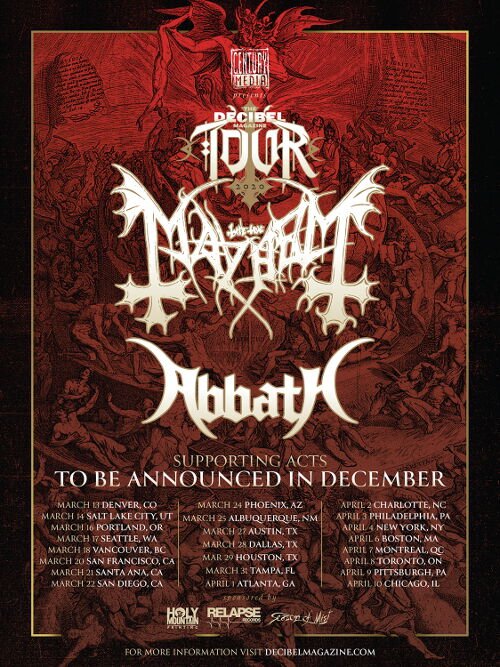 ABBATH with MAYHEM
13 Mar 20 Denver, CO (US) The Ogden Theatre
14 Mar 20 Salt Lake City, UT (US) The Complex
16 Mar 20 Portland, OR (US) Roseland Ballroom
17 Mar 20 Seattle, WA (US) Showbox Market
18 Mar 20 Vancouver, BC (CA) The Imperial
20 Mar 20 San Francisco, CA (US) The Regency Ballroom
21 Mar 20 Santa Ana, CA (US) The Observatory
22 Mar 20 San Diego, CA (US) The Observatory NP
25 Mar 20 Albuquerque, NM (US) Sunshine Theater
27 Mar 20 Austin, TX (US) Empire Garage
28 Mar 20 Dallas, TX (US) Gas Monkey Live
29 Mar 20 Houston, TX (US) White Oak Music Hall
31 Mar 20 Tampa, FL (US) The Ritz
01 Apr 20 Atlanta, GA (US) Masquerade
02 Apr 20 Charlotte, NC (US) The Underground
03 Apr 20 Philadelphia, PA (US) The Fillmore (Decibel Metal & Beer Fest)
04 Apr 20 New York, NY (US) Webster Hall
06 Apr 20 Boston, MA (US) The Paradise
07 Apr 20 Montreal, QC (CA) Corona Theater
08 Apr 20 Toronto, ON (CA) Danforth Music Hall
09 Apr 20 Pittsburgh, PA (US) Mr. Smalls
10 Apr 20 Chicago, IL (US) The Metro
ABBATH will be touring in support of their sophomore record, 'Outstrider,' which can be ordered in various formats in the Season of Mist shop.
Join ABBATH on their official Facebook page.
View Abbath