ANCIIENTS – Voice of the Void – June 7, 2017
Posted on June 7, 2017
More information about Voice of the Void
Vancouver's ANCIIENTS have announced new North American tour dates in support of their latest release 'Voice of the Void'. A full list of confirmed dates can be found below.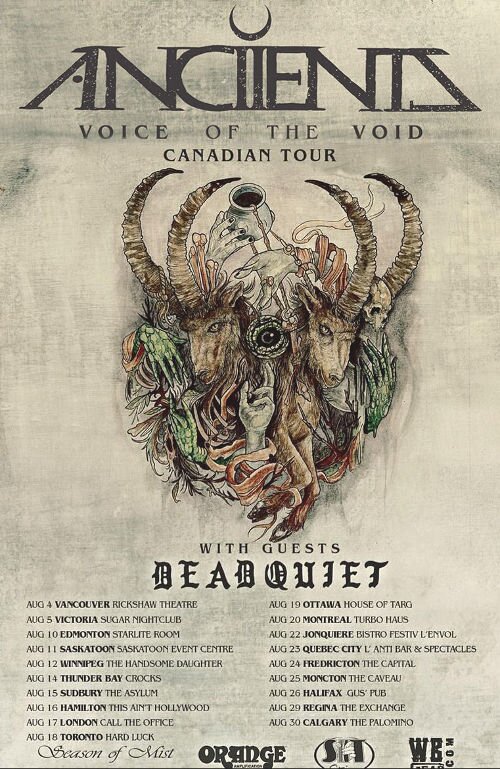 The tour will kick off on June 9 at the Rock Box, San Antonio (TX) and see the band travelling throughout the US and Canada in support of GOATWHORE until a final curtain on June 30th at Vino's, Little Rock (AR).
ANCIIENTS + GOATWHORE
09/06/17 San Antonio (TX) Rock Box
10/06/17 Lubbock (TX) Backstage
11/06/17 Albuquerque (NM) Launchpad
12/06/17 Flagstaff (AZ) Green Room
14/06/17 Oakland (CA) Stork Club
15/06/17 Eugene (OR) Old Nick's
20/06/17 Prince George (BC) Generator Cabaret
21/06/17 Calgary (AB) Distortion
22/06/17 Edmonton (AB) Brixx
23/06/17 Regina (SK) Riddell Centre
24/06/17 Winnipeg, MB @ Windsor Hotel
25/06/17 Minneapolis, MN @ Triple Rock
26/06/17 Milwaukee (WI) Metal Grill
27/06/17 Toledo (OH) Frankie's
29/06/17 Fayetteville (AR) George's
30/06/17 Little Rock (AR) Vino's
ANCIIENTS are touring in support of their latest release 'Voice of the Void'. Artwork and track list can be viewed below.
Following the Voice
Buried in Sand
Worshipper
Pentacle
Descending
Ibex Eye
My Home, My Gallows
Serpents
Incantations
'Voice of the Void' can still be ordered in various formats from the Season of Mist shop.
Join ANCIIENTS on their official Facebook page!
View Anciients