CARACH ANGREN return to North American shores on their first-ever headlining tour this fall. The "Pitch Black Horror Over North America" tour kicks off on September 29, and spans the US and Canada. The masters of horror see support on this tour from MORS PRINCIPIUM EST and WOLFHEART. A full list of confirmed tour dates can be found below.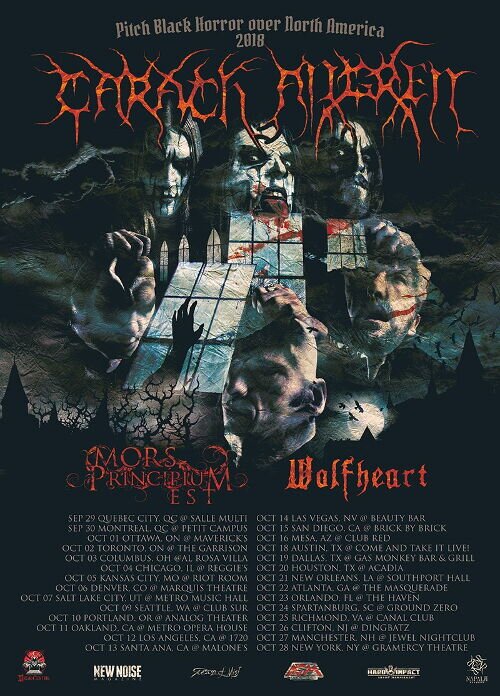 Regarding the tour, CARACH ANGREN comments, "After many successful tours and incredible support from our truly dedicated fans we feel North America is ready to be drenched in the Pitch Black horrors of a fully extensive Carach Angren show this fall. Presenting our latest release "Dance and Laugh Amongst the Rotten", and joined by well known hauntings from our previous albums – we will bring you a Horrifying roller coaster you won't forget!"
CARACH ANGREN With WOLFHEART and MORS PRINCIPIUM EST
29 Sep 18 Quebec City (CA) Salle Multi
30 Sep 18 Montreal (CA) Petit Campus
01 Oct 18 Ottawa (CA) Maverick's
02 Oct 18 Toronto (CA) The Garrison
03 Oct 18 Columbus, OH (US) Al Rosa Villa
04 Oct 18 Chicago, IL (US) Reggie's
05 Oct 18 Kansas City, MO (US) Riot Room
06 Oct 18 Denver, CO (US) Marquis Theatre
07 Oct 18 Salt Lake City, UT (US) Metro Music Hall
09 Oct 18 Seattle, WA (US) Club SUR (+Empyrean Throne)
10 Oct 18 Portland, OR (US) Analog Theater (+Empyrean Throne)
11 Oct 18 Oakland, CA (US) Metro Opera House (+Empyrean Throne)
12 Oct 18 Los Angeles, CA (US) 1720 (+Empyrean Throne)
13 Oct 18 Santa Ana, CA (US) Malone's (+Empyrean Throne)
14 Oct 18 Las Vegas, NV (US) Beauty Bar (+Empyrean Throne)
15 Oct 18 San Diego, CA (US) Brick by Brick (+Empyrean Throne)
16 Oct 18 Mesa, AZ (US) Club Red (+Empyrean Throne)
18 Oct 18 Austin, TX (US) Come and Take it Live!
19 Oct 18 Dallas, TX (US) Gas Monkey Bar & Grill
20 Oct 18 Houston, TX (US) Acadia
21 Oct 18 New Orleans, LA (US) Southport Hall
22 Oct 18 Atlanta, GA (US) The Masquerade
23 Oct 18 Orlando, FL (US) The Haven
24 Oct 18 Spartanburg, SC (US) Ground Zero
25 Oct 18 Richmond, VA (US) Canal Club
27 Oct 18 Manchester, NH (US) Jewel Nightclub
28 Oct 18 New York, NY (US) Gramercy Theatre
CARACH ANGREN are touring across North America in support of their latest album, 'Dance and Laugh Amongst the Rotten'. The artwork and album details can be found below.
Opening
Charlie
Bloodqueen
Charles Francis Coghlan
Song for the Dead
In De Naam Van De Duivel
Pitch Black Box
The Possession Process
Three Times Thunder Strikes
'Dance and Laugh Amongst the Rotten' is still available in various formats in the Season of Mist shop.
Join CARACH ANGREN on their official Facebook page.
View Carach Angren