Season of Mist are proud to announce the signing of CRIPPLED BLACK PHOENIX. The acclaimed dark rockers founded by multi-instrumentalist Justin Greaves have simultaneously released a new track from the forthcoming EP 'New Dark Age' and announced European tour-dates, which are shown below.
"CRIPPLED BLACK PHOENIX are lighting lanterns and scaling the highest peak in celebration of signing with Seasons of Mist", mastermind Justin Greaves comments. "For too long we have been placed in situations where we did not quite fit, but now we feel like we found a more understanding home, a home where people care about the end result and do not compromise. This marks a bright, creative and equally dangerous future for the band and CRIPPLED BLACK PHOENIX are very happy with our new partnership with Season of Mist."
On further news CRIPPLED BLACK PHOENIX are releasing a new EP in advance of their upcoming European tour. Please see below for all confirmed dates. The release is titled 'New Dark Age' and has been slated to be out in the shops worldwide on November 27th, 2015. Pre-sale has already started on the Season of Mist shop!
CRIPPLED BLACK PHOENIX are also premiering the first track taken from 'New Dark Age Tour EP 2015 A.D.'. "Spider Island" is exclusively streaming at the official media partners below.
Visions (DE)
New Noise (FR)
Rocking (GR)
Lángoló Gitárok (HU)
Never Mind the Hype (NL)
Metal Hammer (NO)
Musick Magazine (PL)
Ultraje (PT)
Prog (UK)
PopMatters (USA)
"Our 'New Dark Age' tour EP represents a new chapter in the CRIPPLED BLACK PHOENIX history", Greaves adds. "I feel like it is time to be truly free of industry and personal bullshit. It also connects what we have gone through as a band with what is going on in the big wide world. It really feels as if we are living in a new 'dark age'. Religious and political oppression, the population being fed constant untruths – all of this reminds me of the priests in the middle ages telling folk about dog-headed monsters living in the woods, but if you repent and join the church, they will protect you. The song 'Spider Island' is more personal. There I mentally put all the bad people… recently there have been a few people who need to go to Spider Island and live a life of torture along with all the other scumbags, who cling to power in the world." Season of Mist CEO Michael Berberian issue the following statement about the signing: "I have to admit that I am a late comer to CRIPPLED BLACK PHOENIX. I saw a post from Addi of SÓLSTAFIR about them. I checked out their lastest album 'White Light Generator' and was very intrigued. Then our US CEO Gordon told me that they ranked high among his favorite bands. When I heard that they were free of contract, the thought occurred to me that they could fit our roster. It was a bold move, but it made a lot of sense. I decided to drop them a line and arranged a meeting with Justin. He gave me all of their albums and I was blown away. They are the band that I have listened to most this year. What a class act. Obviously British, sometimes Pink Floyd-ish, graphically different, not metal – but the roots are there, and very genuine without being snobby. They play in a league on their own – in a genre that I would venture to dub dark rock and fill with acts such as SÓLSTAFIR, ALCEST, SUBROSA, KILLING JOKE, and FIELDS OF THE NEPHILIM. This is where a part of the metal scene is going to right now – and definitely a path that I want Season of Mist to tread on. Welcome CRIPPLED BLACK PHOENIX! It does not happen often that I am considering a new band on our roster as a sign of things to come."
CRIPPLED BLACK PHOENIX are simultaneously unveiling the artwork and track-list of 'New Dark Age Tour EP 2015 A.D.'. Both can be viewed below.
Spider Island
New Dark Age
Echoes PT. 1 (Pink Floyd cover)
Echoes PT. 2 (Pink Floyd cover)
On further news, CRIPPLED BLACK PHOENIX have already announced an extensive European tour this autumn. Please see below for a list of all confirmed dates.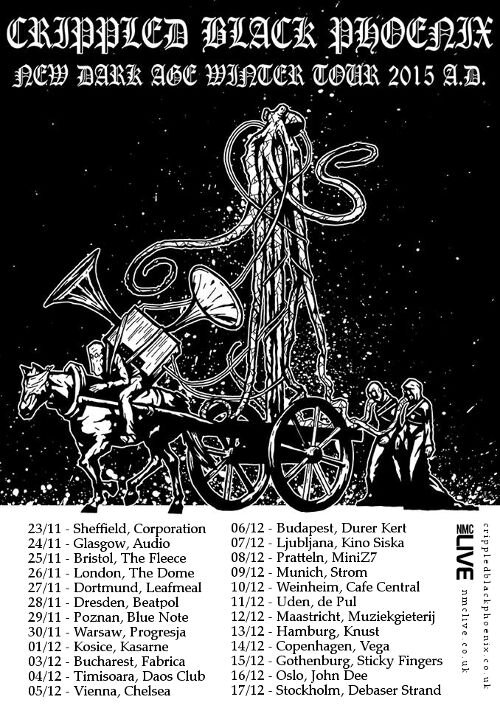 23 Nov 15 Sheffield (UK) Corporation
24 Nov 15 Glasgow (UK) Audio
25 Nov 15 Bristol (UK) The Fleece
26 Nov 15 London (UK) The Dome
27 Nov 15 Dortmund (DE) Leafmeal Festival
28 Nov 15 Dresden (DE) Beatpol
29 Nov 15 Poznan (PL) Blue Note Club
30 Nov 15 Warszawa (PL) Progresja
01 Dec 15 Kosice (SK) Kasárne
03 Dec 15 Bucharest (RO) Fabrica
04 Dec 15 Timisoara (RO) Daos CLub
05 Dec 15 Wien (AT) Chelsea
06 Dec 15 Budapest (HU) Dürer Kert
07 Dec 15 Ljubljana (SI) Kino Siska
08 Dec 15 Pratteln (CH) MiniZ7
09 Dec 15 München (DE) Strom
10 Dec 15 Weinheim (DE) Cafe Central
11 Dec 15 Uden (NL) De Pul
12 Dec 15 Maastricht (NL) Muziekgieterij
13 Dec 15 Hamburg (DE) Knust
14 Dec 15 København (DK) Vega
15 Dec 15 Göteborg (SE) Sticky Fingers
16 Dec 15 Oslo (NO) John Dee
17 Dec 15 Stockholm (SE) Debaser Strand

Line-up:
Justin Greaves: guitar, backing vocals, bass (studio), drums (studio)
Daniel Änghede: guitar, vocals
Mark Furnevall: synthesizer, keyboard, organ, backing vocals
Daisy Chapman: piano, keyboard, vocals
Ben Wilsker: drums (live)
Niall Hone: bass
Jonas Stålhammar: guitar, backing vocals
Belinda Kordic: vocals
Join CRIPPLED BLACK PHOENIX on Facebook and visit their homepage
View Crippled Black Phoenix