CRIPPLED BLACK PHOENIX – Bronze – September 12, 2016
Posted on September 12, 2016
More information about Bronze
CRIPPLED BLACK PHOENIX have revealed the first track from their forthcoming album 'Bronze'. The UK dark progressive rockers will release their stunning new full-length on November 4. The amazing track "No Fun" is exclusively streaming via the official media partners listed below.
Metal Obsession (AU)
Visions (DE)
Rockzone (ES)
Noise (FR)
Rocking (GR)
Lángoló Gitárok (HU)
Metal Wani (IN)
Metalitalia (IT)
IO Pages (NL)
Metal Hammer (NO)
Noise (PL)
Loud (PT)
Prog (UK)
Decibel Magazine (US)
Dead Imperial Bastard
Deviant Burials
No Fun
Rotten Memories
Champions Of Disturbance (Pt 1 & 2)
Goodbye Then
Turn To Stone
Scared And Alone
Winning A Losing Battle
We Are The Darkeners
Mastermind Justin Greaves comments: "It is time to give the world a glimpse of our new album with the track 'No Fun'. This song might raise an eyebrow or two amongst our amazing fans, but then again, CRIPPLED BLACK PHOENIX have always liked to lay musical traps to lure people into our orbit. 'No Fun' is far from giving it all away as regards our new album and this riff has been on demo since 2004, but only now was given birth. Yet it fits the sound, which is our best yet in my opinion and I am extremely happy with how the new album turned out. Stand by for more, but enjoy having 'No Fun' for now."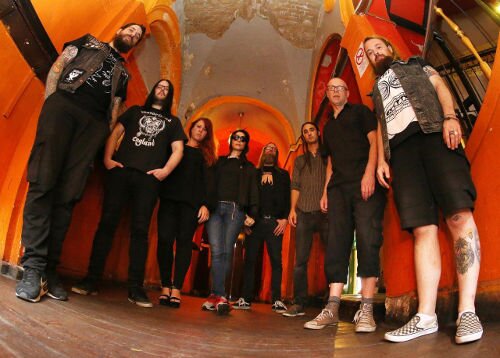 Line-up
Justin Greaves: guitar, backing vocals, saw, samples, bass & drums (studio)
Mark Furnevall: synthesizer, keyboard, organ, sound manipulation
Daniel Änghede: vocals
Addiditional musicians
Daisy Chapman: piano
Ben Wilsker: drums (live)
Jonas Stålhammar: guitar, hammond, synth
Belinda Kordic: vocals, banshee, lead vocalist on " Scared And Alone"
Tom Greenway: bass
Guest musicians
Chrissie Caulfield: violin, harp, fog horn
Arthur Young: piano
Arvid Jonsson: vocals on "Turn To Stone"
Robert Holm: trumpets
'Bronze' is now available for pre-order at the Season of Mist shop.
Join CRIPPLED BLACK PHOENIX on their official Facebook page.
View Crippled Black Phoenix