CRIPPLED BLACK PHOENIX – Bronze – May 4, 2017
Posted on May 4, 2017
More information about Bronze
CRIPPLED BLACK PHOENIX have announced a string of European festival and headlining performances for summer 2017. In support of their latest release 'Bronze', the eclectic British rockers will kick off their road rage at the prestigious Hellfest in Clisson, France on June 18th.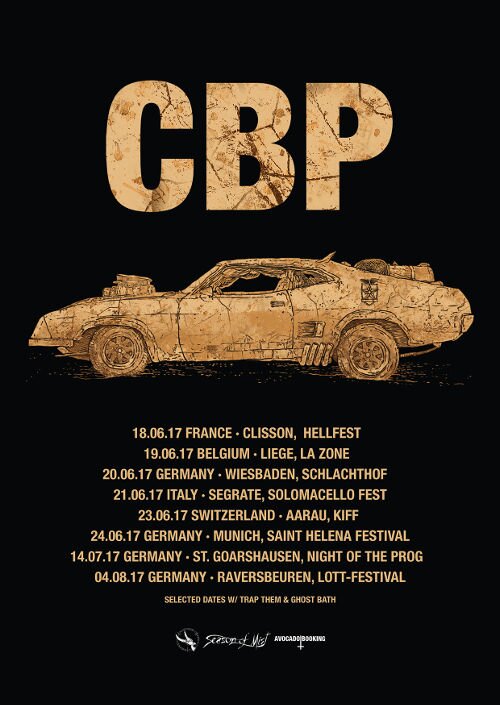 CRIPPLED BLACK PHOENIX
18 Jun 17 Clisson (FR) Hellfest
19 Jun 17 Liege (BE) La Zone (+Trap Them)
20 Jun 17 Wiesbaden (DE) Schlachthof (+Trap Them)
21 Jun 17 Segrate (IT) SoloMacello Fest
23 Jun 17 Aarau (CH) Kiff (+Trap Them +Ghost Bath)
24 Jun 17 München (DE) Saint Helena Festival
14 Jul 17 Sankt Goarshausen (DE) Night of the Prog
04 Aug 17 Raversbeuren (DE) Lott-Festival
Mastermind Justin Greaves comments: "Hello rockers! We are stoked to bring a fine selection of our songs to you this summer. Make sure to catch our shows this time round; we are not the most touring band. See you in the sun!"
CRIPPLED BLACK PHOENIX will be touring in support of their latest album 'Bronze'. Artwork and track-list are shown below.
Dead Imperial Bastard
Deviant Burials
No Fun
Rotten Memories
Champions Of Disturbance (Pt 1 & 2)
Goodbye Then
Turn To Stone
Scared And Alone
Winning A Losing Battle
We Are The Darkeners
'Bronze' can still be ordered in various formats from the Season of Mist shop.
Join CRIPPLED BLACK PHOENIX on their official Facebook page!
View Crippled Black Phoenix