DER WEG EINER FREIHEIT – Stellar – March 5, 2015
Posted on March 5, 2015
More information about Stellar
DER WEG EINER FREIHEIT are now streaming a brand new song taken from their forthcoming full-length 'Stellar'. The song "Eiswanderer" is exclusively premiering via the official media partners below:
Metal Obsession (AU)
Vice (DE)
Kaaoszine (FI)
Radio Metal (FR)
Metalpaths (GR)
Lángoló Gitárok (HU)
Metal Wani (IN)
Metalitalia (IT)
Eternal-Terror (NO)
Musick Magazine (PL)
Against Magazine (PT)
Zero Tolerance (UK)
Revolver (US)
The band comments: "'Eiswanderer' originated from a nightly trip I did through the Norwegian mountains around Bergen back in February 2013", says frontman Nikita Kamprad. "The complete solitude and isolation can give you strength and calm. It lets you reflect on things you usually never find the time for in the fast and frantic life of daily routines."
Repulsion
Requiem
Einkehr
Verbund
Eiswanderer
Letzte Sonne
On further news, the German black metal progenies have already announced a string of European dates with DOWNFALL OF GAIA in March and April this year. A full list of confirmed dates can be viewed below.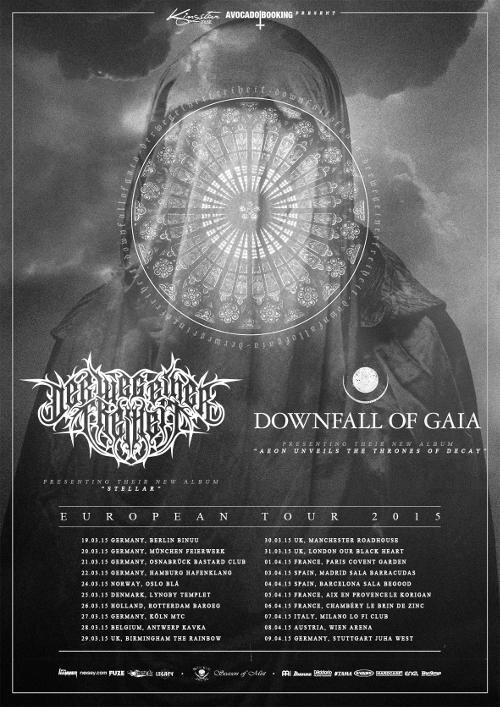 DER WEG EINER FREIHEIT will be joined by compatriot sludge and post-metal outfit DOWNFALL OF GAIA. The tour will start in Germany at Berlin's Binuu on the 19th of March and continues through nine other countries before the grand finale at Juha West in Stuttgart back in Germany.
19 Mar 15 Berlin (DE) Bi Nuu
20 Mar 15 München (DE) Feierwerk
21 Mar 15 Osnabrück (DE) Bastard Club
22 Mar 15 Hamburg (DE) Hafenklang
24 Mar 15 Oslo (NO) Blå
25 Mar 15 Lyngby (DK) Templet
26 Mar 15 Rotterdam (NL) Baroeg
27 Mar 15 Köln (DE) MTC
28 Mar 15 Antwerp (BE) Kavka
29 Mar 15 Birmingham (UK) The Rainbow
30 Mar 15 Manchester (UK) Roadhouse
31 Mar 15 London (UK) Our Black Heart
01 Apr 15 Paris (FR) Covent Garden
03 Apr 15 Madrid (ES) Sala Barracudas
04 Apr 15 Barcelona (ES) Sala Begood
05 Apr 15 Luynes (FR) Le Korigan
06 Apr 15 Chambéry (FR) Le Brin de Zinc
07 Apr 15 Milano (IT) Lo Fi Club
08 Apr 15 Wien (AT) Arena
09 Apr 15 Stuttgart (DE) Juha West
Festival shows
10 Apr 15 Tilburg (NL) Roadburn Festival
11 Apr 15 Lichtenfels (DE) Ragnarök Festival
19 Jun 15 Dessel (BE) Graspop Metal Meeting
20 Jun 15 Clisson (FR) Hellfest
12 Jul 15 Kärnten (AT) Eine in Teich Open Air
DER WEG EINER FREIHEIT have previously released a lyric video created by Emanuel Oropesa with artwork and illustration from Max Löffler for the new song "Einkehr", which can be viewed here.
'Stellar' will be released on March 23rd, 2015 and is already available for pre-order on the Season of Mist e-shop, as a limited Digibox edition with bonus tracks and exclusive coloured vinyl with bonus 2-track 7". Artwork and track-list are shown below.
Repulsion
Requiem
Einkehr
Verbund
Eiswanderer
Letzte Sonne
View Der Weg einer Freiheit