NECRONOMICON – UNUS – October 1, 2019
Posted on October 1, 2019
More information about UNUS
Canadian blackened death metal masters NECRONOMICON have announced an extensive run of U.S. tour dates in support of SUFFOCATION and BELPHEGOR. The trek will kick off on October 23 in Sauget, IL and will conclude a month later on November 23 in Reading, PA. Ahead of the tour, the band will be performing at the QCDM BBQ 3 pre-fest on October 11 in Quebec City, QC. The full run can be found below.
Speaking of the upcoming dates, NECRONOMICON mainman Rob "The Witch" comments: "Necronomicon is proud to go on the road with long time friends Suffocation and of course cult German dark metal band Belphegor. We shared the stage with both of these bands in the past, but only on one-offs or festivals. See you all in October/November, U.S. fans."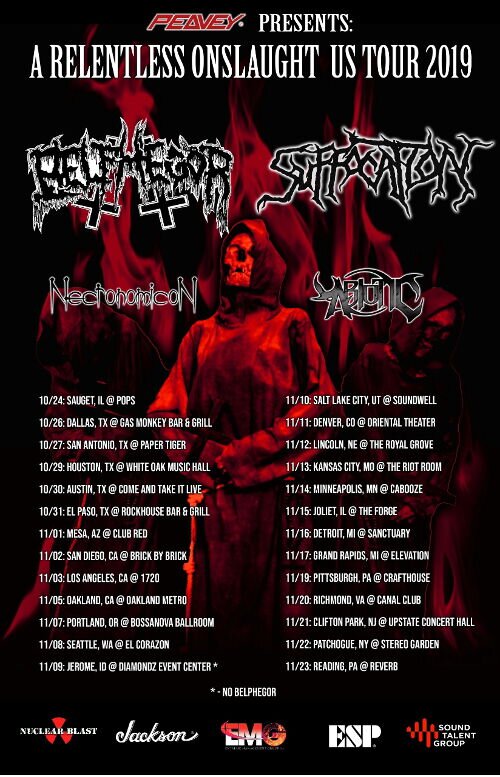 NECRONOMICON Festival Dates:
10/11: Quebec City, QC @ QCDM BBQ 3 Pre-Fest
NECRONOMICON (w/ Suffocation, Belphegor, and Abiotic):
10/24: Sauget, IL @ Pops
10/26: Dallas, TX @ Gas Monkey Bar & Grill
10/27: San Antonio, TX @ Paper Tiger
10/29: Houston, TX @ White Oak Music Hall
10/30: Austin, TX @ Come and Take It Live
10/31: El Paso, TX @ Rockhouse Bar & Grill
11/01: Mesa, AZ @ Club Red
11/02: San Diego, CA @ Brick By Brick
11/03: Los Angeles, CA @ 1720
11/05: Oakland, CA @ Oakland Metro
11/07: Portland, OR @ Bossanova Ballroom
11/08: Seattle, WA @ El Corazon
11/09: Jerome, ID @ Diamondz Event Center *
11/10: Salt Lake City, UT @ Soundwell
11/11: Denver, CO @ Oriental Theater
11/12: Lincoln, NE @ The Royal Grove
11/13: Kansas City, MO @ The Riot Room
11/14: Minneapolis, MN @ Cabooze
11/15: Joliet, IL @ The Forge
11/16: Detroit, MI @ Sanctuary
11/17: Grand Rapids, MI @ Elevation
11/19: Pittsburgh, PA @ Crafthouse
11/20: Richmond, VA @ Canal Club
11/21: Clifton Park, NY @ Upstate Concert Hall
11/22: Patchogue, NY @ Stereo Garden
11/23: Reading, PA @ Reverb
*No Belphegor
NECRONOMICON will be touring in support of their upcoming release 'UNUS'. The album can be pre-ordered in the Season of Mist shop.
Join NECRONOMICON on their official Facebook page.
View Necronomicon