ROTTING CHRIST – Their Greatest Spells – June 27, 2018
Posted on June 27, 2018
More information about Their Greatest Spells
ROTTING CHRIST have announced new European tour dates in support of the mighty WATAIN this November. The band will kick off, "The Trident's Curse" tour at the Byhaven Pumpehusetn, Copenhagen (DK) on November 2, 2018 and sees the band rampaging through 10 more countries. See a full list of tour dates below.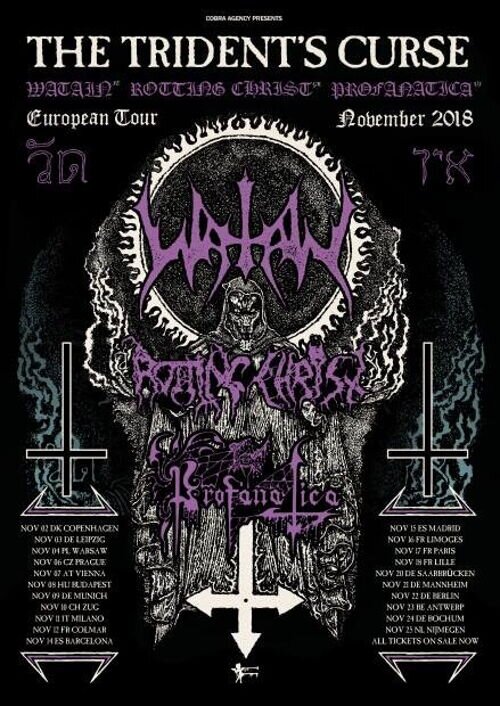 Frontman Sakis Tolis comments: "Hey there brothers! On behalf of ROTTING CHRIST, I would like to announce our very last 'Rituals' worldwide tour. A Special 20 shows rampage, with two of the most Unholy Black Metal Hordes out there! See you at the Gates of Hell together with WATAIN & PROFANATICA and we promise nothing less than a hell-of-a-show with a very special set-list!"
See below for an updated list of all confirmed shows.
ROTTING CHRIST – summer festivals
14 Jul 18 Anyksciai (LT) Devil Stone Festival
17 Aug 18 Borre (NO) Midgardsblot Festival
ROTTING CHRIST with WATAIN AND PROFANATICA
02 Nov 18 Copenhagen (DK) Byhaven Pumpehuset
03 Nov 18 Leipzig (DE) Hellraiser
04 Nov 18 Warsaw (PL) Progresja
06 Nov 18 Prague (CZ) MeetFactory
07 Nov 18 Budapest (HU) Barba Negra Music Club
09 Nov 18 Munich (DE) Backstage
10 Nov 18 Zug (CH) Chollerhalle
11 Nov 18 Trezzo sull 'Adda (IT) Live Club
12 Nov 18 Colmar (DE) Le Grillen
14 Nov 18 Barcelona (ES) Razzmatazz 2
15 Nov 18 Madrid (ES) Chango
16 Nov 18 Limoges (FR) Centre Culturel John Lennon
17 Nov 18 Paris (FR) La Trabendo
18 Nov 18 Bucharest (RO) Metal Gates
20 Nov 18 Saarbrücken (DE) Garage
21 Nov 18 Mannheim (DE) MS Connexion Complex
22 Nov 18 Berlin (DE) Astra Kulturhaus
23 Nov 18 Antwerpen (BE) TRIX
24 Nov 18 Bochum (DE) Matrix
25 Nov 18 Nijmegen (NL) Doornroosje
ROTTING CHRIST will be playing in support of their latest release 'Their Greatest Spells'. Artwork, tracklist, and album details can be viewed below.
The Sign of Prime Creation
Athanati Este
Non Serviam
King of a Stellar War
Nemecic
Grandis Spiritus Diavolos
Art of Sin
Dying
Archon
Serve In Heaven
Astral Embodiment
After Dark I Feel
Sorrowfull Farewell
In Yumen-Xibalba
Elthe Kyrie
Cold Colours

The Sign of Evil Existence
Fgmenth Thy Gift
Ze Nigmar
Phobo's Synagogue
Demonon Vrosis
...Pir Threontai
Kata Ton Daimona Eaytoy
Among Two Storms
Semigod
Welcome to Hel
A Dynasty from the Ice
Shadows Follow
Forest of N'gai
Feast of the Grand Whore
Exiled Archangels
Saturn Unlock Avey's Son
I Will Not Serve
'Their Greatest Spells' is still available in the Season of Mist shop in various formats.
Join ROTTING CHRIST on their official Facebook page.
View Rotting Christ