ROTTING CHRIST – Their Greatest Spells – August 28, 2018
Posted on August 28, 2018
More information about Their Greatest Spells
'NON SERVIAM: THE OFFICIAL STORY OF ROTTING CHRIST' is A full-length book created by front-man Sakis Tolis and Dayal Patterson (author of 'Black Metal: Evolution Of The Cult', 'The Cult Never Dies Vol. One' and 'Into The Abyss'), and will be released via Cult Never Dies in late November 2018.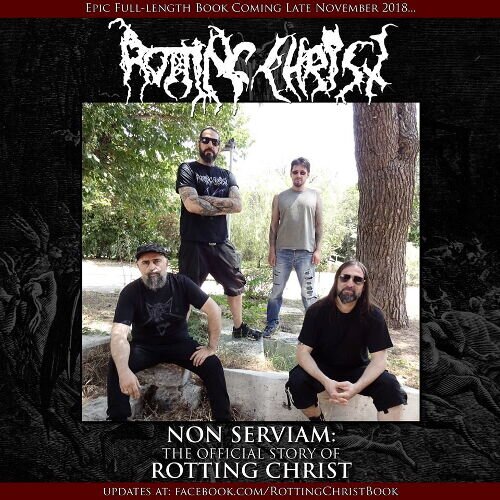 The book will contain extensive interviews with Themis Tolis, Jim Mutilator, Morbid, George Tolias, George Emmanuel and members of bands including Watain, Mayhem, Enslaved, Moonspell, Blasphemy, Mystifier, Septicflesh, Behemoth, Macabre Omen, Immolation and more.
Pre-orders of the book and more info can be found here
ROTTING CHRIST have previously released 'Their Greatest Spells'. Artwork, track-list, and album details can be viewed below.
The Sign of Prime Creation
Athanati Este
Non Serviam
King of a Stellar War
Nemecic
Grandis Spiritus Diavolos
Art of Sin
Dying
Archon
Serve In Heaven
Astral Embodiment
After Dark I Feel
Sorrowfull Farewell
In Yumen-Xibalba
Elthe Kyrie
Cold Colours

The Sign of Evil Existence
Fgmenth Thy Gift
Ze Nigmar
Phobo's Synagogue
Demonon Vrosis
...Pir Threontai
Kata Ton Daimona Eaytoy
Among Two Storms
Semigod
Welcome to Hel
A Dynasty from the Ice
Shadows Follow
Forest of N'gai
Feast of the Grand Whore
Exiled Archangels
Saturn Unlock Avey's Son
I Will Not Serve
'Their Greatest Spells' can still be ordered in various formats in the Season of Mist shop .
Join ROTTING CHRIST on their official Facebook page .
View Rotting Christ