ROTTING CHRIST – Their Greatest Spells – October 30, 2018
Posted on October 30, 2018
More information about Their Greatest Spells
ROTTING CHRIST are about to start their European tour in support of the mighty WATAIN. The band will kick off, "The Trident's Curse" tour at the Byhaven Pumpehusetn, Copenhagen (DK) on November 2, 2018 and sees the band rampaging through 10 more countries until a final curtain at the Doornroosje, Nijmegen (NL). At all shows, PROFANATICA will open the ceremony.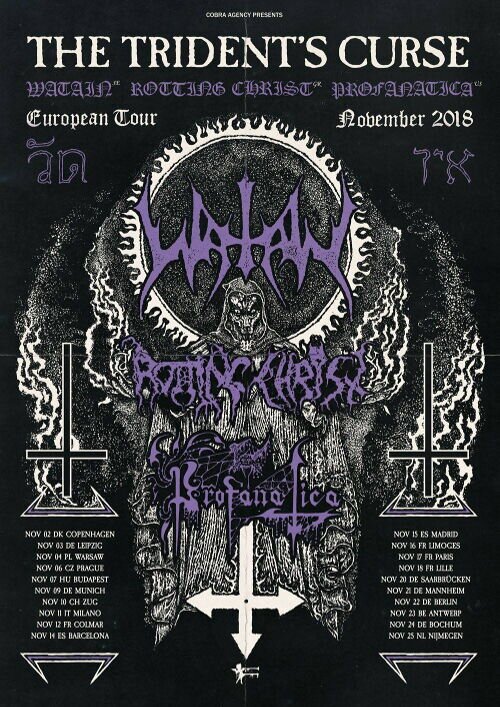 ROTTING CHRIST + WATAIN + PROFANATICA
02 Nov 18 Copenhagen (DK) Byhaven Pumpehuset
03 Nov 18 Leipzig (DE) Hellraiser
04 Nov 18 Warsaw (PL) Progresja
06 Nov 18 Prague (CZ) MeetFactory
07 Nov 18 Budapest (HU) Barba Negra Music Club
09 Nov 18 Munich (DE) Backstage
10 Nov 18 Zug (CH) Chollerhalle
11 Nov 18 Trezzo sull 'Adda (IT) Live Club
12 Nov 18 Colmar (DE) Le Grillen
14 Nov 18 Barcelona (ES) Razzmatazz 2
15 Nov 18 Madrid (ES) Chango
16 Nov 18 Limoges (FR) Centre Culturel John Lennon
17 Nov 18 Paris (FR) La Trabendo
18 Nov 18 Bucharest (RO) Metal Gates
20 Nov 18 Saarbrücken (DE) Garage
21 Nov 18 Mannheim (DE) MS Connexion Complex
22 Nov 18 Berlin (DE) Astra Kulturhaus
23 Nov 18 Antwerpen (BE) TRIX
24 Nov 18 Bochum (DE) Matrix
25 Nov 18 Nijmegen (NL) Doornroosje
Frontman Sakis Tolis comments: "See you at the Gates of Hell together with WATAIN and PROFANATICA. We promise nothing less than a hell-of-a-show with a very special set-list!"
ROTTING CHRIST will release their new album in 2019 via Season of Mist.
ROTTING CHRIST have previously released their Best of album 'Their Greatest Spells', which is still available in the Season of Mist shop.
Join ROTTING CHRIST on their official Facebook page.
View Rotting Christ