Cult Norwegian trio TSJUDER (Nag – Vocals, Bass; Draugluin – Guitars; AntiChristian – Drums) just had their 2004 full length 'Desert Northern Hell' deemed as one of the black metal genre's 50 best records of all time by Decibel Magazine. The album appears in Decibel's new special issue focusing on the "Top 100 Black Metal Albums Of All Time".
About the album, Decibel Magazine commented: "As the record nears its 10th anniversary, this razor-winged monolith sounds as killer and vicious as it did the day it came out…"No synthesizers, no female vocals, no fucking compromises!" read the slogan on the back cover, and TSJUDER weren't fucking kidding". -J. Bennett. The Decibel special issue can be purchased here.
TSJUDER recently re-issued 'Desert Northern Hell' with 4 previously unreleased live tracks and a bonus DVD titled "Norwegian Apocalypse" that captures the band's aggressive live performances. 'Desert Northern Hell' is streaming here and the deluxe reissue can be purchased on Season of Mist's e-shop.
TSJUDER have announced a rare North American live appearance. The band will headline Montreal's Messe des Morts Festival on November 29th. Support for the band comes in the form of HORNA, SARGEIST, and BAPTISM. A full line up and more festival details are available here.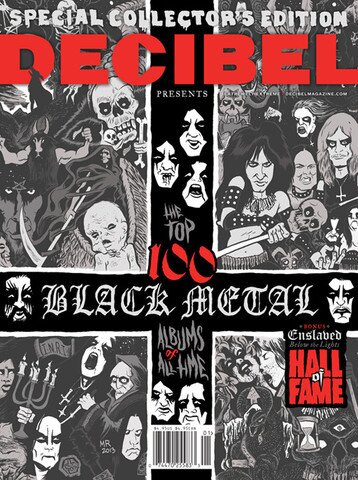 Founded in 1993, Norway's TSJUDER is best for their relentless, uncompromising approach to black metal. With every release, TSJUDER's unrelenting dedication to the roots of black metal has been celebrated by fans and critics alike. Their latest album, 2011's 'Legion Helevete', is available on Season of Mist's e-shop as well as on Bandcamp.
View Tsjuder