TSJUDER – Legion Helvete – February 2, 2015
Posted on February 2, 2015
More information about Legion Helvete
Season of Mist are proud to announce the blood inking of a new deal with TSJUDER! The Norwegian black metal cult act has already entered studio to record a new album to be released later this year.
TSJUDER comment: "We are proud to be re-signed to Season of Mist. For us there's never been any doubt about continuing the cooperation with our label. We have a very good relationship, and they have always done an excellent job for us. We have just started the recording of our next album, so prepare for Hell!"
The band adds: "We are currently in studio recording our new album, and we are about half done. We have spent some 3-4 years creating this material, and as always we have not been rushing it. The music is in the same vein as always; raw and brutal black metal without any compromises. We plan to be done in March, but the release will come later this year. On our upcoming concerts we will probably play a few of the new songs. We will make it worth the wait!"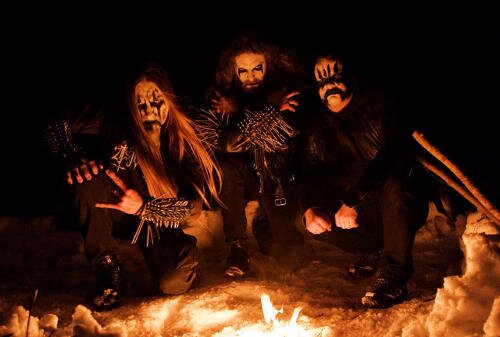 On further news, TSJUDER are scheduled to perform in London on February 14th at The Garage and to make a rare North American appearance at this year's Maryland Deathfest in Baltimore, MD on the 21st of May.
TSJUDER have previously released pro-shot live footage of their entire set at the prestigious Hellfest Open Air 2014. Their full performance is currently streaming here, and includes a new track from the band, titled 'Demonic Supremacy'.
TSJUDER are still supporting their latest album 'Legion Helvete' (2011) live, which is available among other releases of the Norwegian band at the Season of Mist shop. Artwork and tracklist can be viewed below.
The Daemon Throne
Fra en Råtten Kiste
Dauðir
Voldsherskeren
Slakt
Black Shadows of Hell
Blod og Aske
Vårt Helvete
View Tsjuder