VULTURE INDUSTRIES – Stranger Times – February 6, 2019
Posted on February 6, 2019
More information about Stranger Times
VULTURE INDUSTRIES have announced new European tour dates together with good friends HELHEIM and MADDER MORTEM.
The Norwegian eccentrics kick off the 'Strange Rain' tour at the Kvarteret in Bergen (NO) on April 12 and sees the band traveling throughout 6 more countries before a final curtain at the Skullcrusher fest in Dresden (DE) on May 04.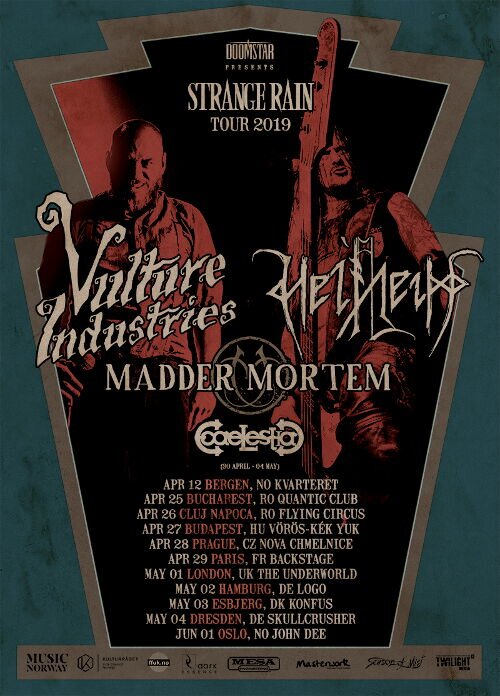 Front man Bjørnar comments on the tour: "11 years after our first ever European tour, it's with immense pleasure that we can announce we hit the road again with our friends from HELHEIM. These guys, who have been involved with getting us signed to a label back in the days and me, acting as their producer for 13 years and 6 albums, have close connected musical paths for a long time now. At the moment, we are shifting focus onto new material with VULTURE INDUSTRIES as well. Currently we are separating flesh from bone and considering whether to keep the odd bits, or just the stuff that looks appealing at first glance. If you are all nice, we might show you a bit of both. We are also very, very thrilled to have MADDER MORTEM on board for this tour. A band I have been following since I first discovered them with "Deadlands" back in 2002. Together I think this unruly trinity is sure to save you from boredom."
VULTURE INDUSTRIES + HELHEIM + MADDER MORTEM
12 Apr 19 Bergen (NO) Kvarteret
25 Apr 19 Bucharest (RO) Quantic Club
26 Apr 19 Cluj Napoca (RO) Flying Circus
27 Apr 19 Budapest (HU) TBC
28 Apr 19 Praha (CZ) Nova Chmelnice
29 Apr 19 Paris (FR) Backstage
01 May 19 London (UK) The Underworld
03 May 19 Esbjerg (DK) Konfus
04 May 19 Dresden (DE) Skullcrusher
VULTURE INDUSTRIES will be touring in support if their latest full-length, 'Stranger Times', which is still available in the Season of Mist shop.
Join VULTURE INDUSTRIES on their official Facebook page.
View Vulture Industries