WORMED – Krighsu – June 12, 2018
Posted on June 12, 2018
More information about Krighsu
Spanish technical death metal masters WORMED have released a lyric video for the track 'Neomorph Mindkind' taken from the album 'Krigshu'. The band has also announced their new drummer. Read the band's statement below.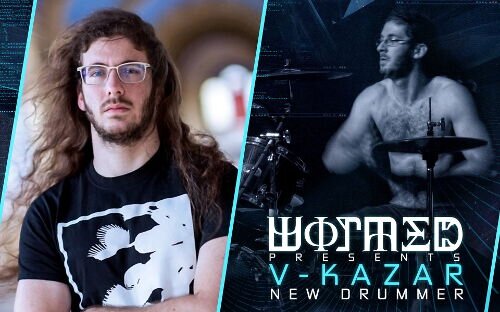 The video for 'Neomorph Mindkind' is now streaming at the official Season of Mist Youtube Channel here.
WORMED has recently V-Kazar (Gabriel Valcazar) as their new permanent drummer after the tragic passing of drummer G-Calero.
The band comments: "We want to share some great news with you. We're very happy to inform you that V-Kazar (Gabriel Valcazar) is joining WORMED as our new drummer! Gabriel is an awesome and talented drummer; just from the first rehearsal we were completely impressed with his amazing skills and technique. For those of you who don't know, he also does impeccable work drumming in Ernia and Aposento, among other projects. We see him as a promising new talent in the scene! This guy is superb, and we're really proud of having a good drummer, as well as a great person, join our ranks."
WORMED's previous record 'Krighsu' has been released on March 18th, 2016. Artwork and track-list can be viewed below.
Pseudo-Horizon
Neomorph Mindkind
Agliptian Codex Cyborgization
The Singularitarianism
Eukaryotic Hex Swarm
Computronium Pulsar Nanarchy
A-Life Omega Point
57889330816.1
Zeroth-Energy Graviton
Molecular Winds
'Krighsu' is still available in various formats in the Season of Mist shop.
Join WORMED on their official Facebook page.
View Wormed