A LIFE ONCE LOST – Ecstatic Trance – September 18, 2012
Posted on September 18, 2012
More information about Ecstatic Trance
A LIFE ONCE LOST will head out on a full U.S. tour with headliners REVOCATION this October and November in support of their new album, "Ecstatic Trance", due out in North America on its new release date of October 22nd and internationally on November 16th. Support will come from KEN MODE. The tour kicks off on October 18th in Trenton, NJ and comes to a close in Allston, MA on November 13th.
10/18 – Trenton, NJ @ The Backstage at Championship Bar (No KEN mode)
10/19 – Montreal, QC @ Katacombes
10/20 – Toronto, ON @ Wreck Room
10/21 – Lansing, MI @ Mac's Bar
10/22 – Chicago, IL @ Cobra Lounge
10/23 – St. Paul, MN @ Station 4
10/24 – Winnipeg, MB @ Osborne Village Inn
10/26 – Calgary, AB @ Vern's
10/27 – Edmonton, AB @ Pawn Shop
10/29 – Tacoma, WA @ The Loch's
10/30 – Seattle, WA @ El Corazon – Lounge
10/31 – Portland, OR @ Rotture
11/1 – San Francisco, CA @ The Sub Mission
11/2 – Fullerton, CA @ Slidebar
11/3 – Scottsdale, AZ @ Chaser's
11/4 – El Paso, TX @ House of Rock
11/5 – San Antonio, TX @ Korova
11/6 – Austin, TX @ Red 7
11/8 – Atlanta, GA @ The Masquerade
11/9 – Charlotte, NC @ The Casbah @ Tremont Music Hall
11/10 – Philadelphia, PA @ Kung Fu Necktie
11/11 – Albany, NY @ Bogies
11/12 – New York, NY @ The Studio At Webster Hall
11/13 – Allston, MA @ Great Scott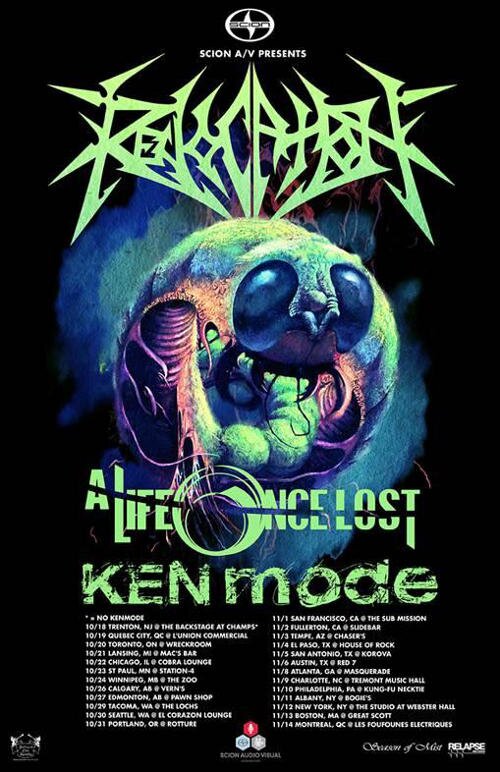 Pre-orders for "Ecstatic Trance" are available now! The album is available for pre-order in five different versions: CD Digipack with bonus track, LP, translucent orange LP, mixed colors LP and CD jewel case. Each LP version comes with a bonus track, a poster and dropcard. To take a look at all versions and any other merch items, head to Season of Mist's e-shop.
Last week, A LIFE ONCE LOST unveiled another new track from their upcoming full length album, "Ecstatic Trance"! The track, entitled 'Something Awful', is the first track on the album and is available for streaming at Revolver Magazine's website. 'Something Awful' is the second new A LIFE ONCE LOST track released in the past month- the first being 'Madness is God' which has a new lyric video to go along with it. The lyric video for 'Madness is God' can be viewed on YouTube.
Head to the band's official website now! Fans should check the ticker continuously to be "in the know" on upcoming A LIFE ONCE LOST media releases.
View A Life Once Lost