CANNABIS CORPSE – Left Hand Pass – November 28, 2017
Posted on November 28, 2017
More information about Left Hand Pass
CANNABIS CORPSE have announced European shows in March and April 2018 in support of their latest release 'Left Hand Pass'. A full list of confirmed shows can be found below.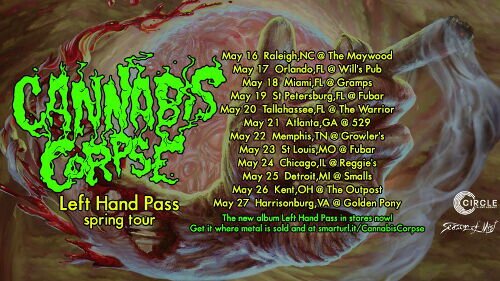 CANNABIS CORPSE
14 Mar 18 Köln (DE) MTC
15 Mar 18 Osnabrück (DE) Bastard Club
16 Mar 18 Bruxelles (BE) Magasin
17 Mar 18 Eindhoven (NL) Dynamo
18 Mar 18 Erfurt (DE) From Hell
19 Mar 18 Berlin (DE) Cassiopeia
20 Mar 18 Brno (CZ) Melodka
21 Mar 18 Budapest (HU) Dürer Kert
22 Mar 18 Zagreb (HR) Industrial Bar
23 Mar 18 Pordenone (IT) Live Rock Town
24 Mar 18 Borgo Priolo (IT) Dagda Club
25 Mar 18 Calenzano (IT) Cycle Club
26 Mar 18 Zürich (CH) Werk 21
28 Mar 18 Montpellier (FR) Secret Place
29 Mar 18 Barcelona (ES) Upload Club
03 Apr 18 London (UK) Underworld
04 Apr 18 Leeds (UK) Temple of Boom
05 Apr 18 Newcastle (UK) Think Tank
06 Apr 18 Manchester (UK) Rebellion
07 Apr 18 Glasgow (UK) Lords of the Land Fest
CANNABIS CORPSE will be touring in support of their smoking hot latest album, 'Left Hand Pass', which was released on September 8th. Artwork and track-list of 'Left Hand Pass' can be viewed below.
The 420th Crusade
In Dank Purity
Final Exhalation
Chronic Breed
In Battle There Is No Pot
Grass Obliteration
Left Hand Pass
Effigy of the Forgetful
Papyrus Containing the Spell to Protect Its Possessor Against Attacks from He Who Is in the Bong Water
The Fiends that Come to Steal the Weed of the Deceased
'Left Hand Pass' can still be ordered in various formats from the Season of Mist shop
Join CANNABIS CORPSE on their official Facebook page!
View Cannabis Corpse