CLOAK – To Venomous Depths – March 13, 2018
Posted on March 13, 2018
More information about To Venomous Depths
Atlanta, GA's metal quartet CLOAK have announced new tour dates, in support of their latest release 'To Venomous Depths', surrounding their tour supporting MAYHEM. CLOAK will kick off their tour on March 25 at Kentucky's Blood of the Wolf Festival, and will perform across Baltimore, Columbus, and Waterford, NY before joining MAYHEM. A full list of confirmed tour dates can be found below.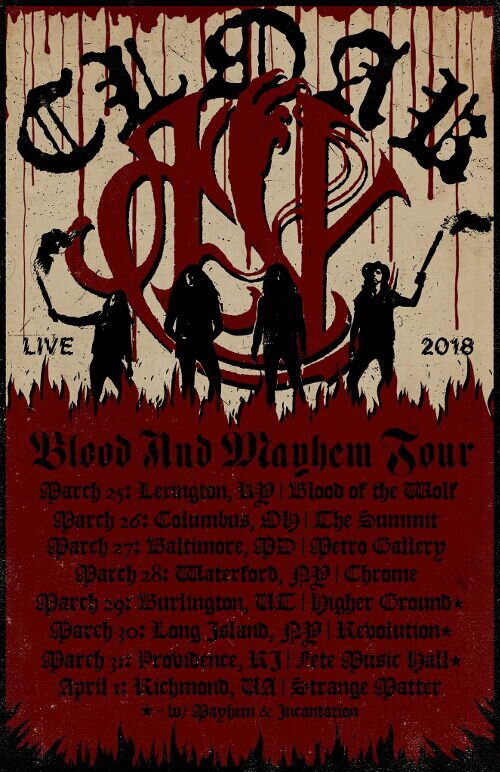 CLOAK
16 Mar 18 Atlanta, GA (US) The Masquerade
25 Mar 18 Lexington, KY (US) Blood of the Wolf Fest
26 Mar 18 Colombus, OH (US) The Summit (+Withered)
27 Mar 18 Baltimore, MD (US) Metro Gallery
28 Mar 18 Waterford, NY (US) Chrome
01 Apr 18 Richmond, VA (US) STrange Matter (+Hellrad +Occultist)
21 Aug 18 San Diego, CA (US) Brick by Brick (+Church of Misery)
CLOAK + MAYHEM + INCANTATION
29 Mar 18 South Burlington, VT (US) Higher Ground (+Mayhem +Incantation)
30 Mar 18 Amityville, NY (US) Revolution Bar and Music Hall (+Mayhem +Incantation)
31 Mar 18 Providence, RI (US) Fete Music Hall (+Mayhem +Incantation)
CLOAK are touring in support of their debut full length, 'To Venomous Depths'. Artwork and track list can be viewed below.
To Venomous Depths / Where No Light Shines
Within the Timeless Black
The Hunger
Beyond the Veil
Death Posture
In the Darkness, the Path
Forever Burned
Passage
Deep Red
'To Venomous Depths' can still be ordered in various formats from the Season of Mist shop
Join CLOAK on their official Facebook page!
View Cloak