GAAHLS WYRD – GastiR Ghosts invited – October 29, 2019
Posted on October 29, 2019
More information about GastiR Ghosts invited
Norwegian extreme metal formation GAAHLS WYRD are about to embark on their European tour with Mayhem and GosT. The tour will kick off on Thursday, October 31st in Nijmegen (NL). Find the full list of tour dates below.
The tour continues through the United Kingdom, France, Germany, Italy, Czech Republic, Belgium, Denmark, Finland, until the final curtain in Gothenburg (SE), on Saturday, November 30th.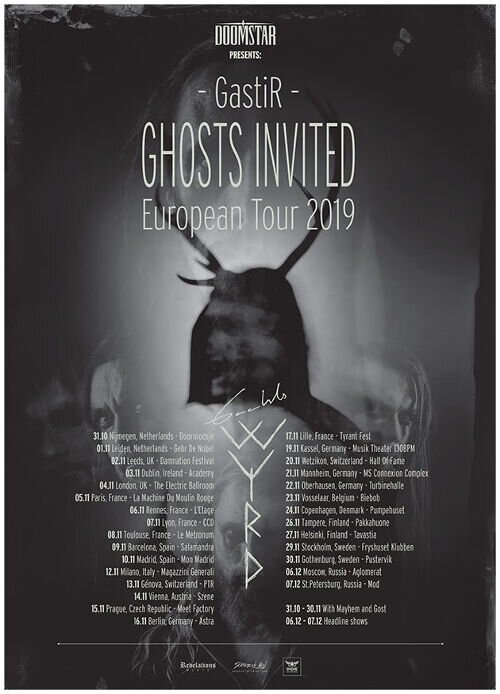 GAAHLS WYRD with Mayhem and Gost
31 Oct 19 Nijmegen (NL) Doornroosje
01 Nov 19 Leiden (NL) Gebr de Nobel
02 Nov 19 Leeds (UK) Damnation Festival
03 Nov 19 Dublin (IE) Academy
04 Nov 19 London (UK) Electric Ballroom
05 Nov 19 Paris (FR) La Machine Du Moulin Rouge
06 Nov 19 Rennes (FR) L'etage
07 Nov 19 Lyon (FR) CCO Jean-Pierre Lachaize
08 Nov 19 Toulouse (FR) Metronome
09 Nov 19 Barcelona (ES) Razzmatazz
10 Nov 19 Madrid (ES) Mon Madrid
12 Nov 19 Milan (IT) Magazzini Generali
13 Nov 19 Geneva (CH) PTR
14 Nov 19 Vienna (AT) Simm City
15 Nov 19 Prague (CZ) Meet Factory
16 Nov 19 Berlin (DE) Astra
17 Nov 19 Lille (FR) Tyrant Fest
19 Nov 19 Kassel (DE) Musik Theater 130 BPM
20 Nov 19 Zurich (CH) Hall of Fame
21 Nov 19 Mannheim (DE) MS Connextion Complex
22 Nov 19 Oberhausen (DE) Turbinehalle
23 Nov 19 Vosselaar (BE) Biebob
24 Nov 19 Copenhagen (DK) Pumpehuset
26 Nov 19 Tampere (FI) Pakkahuone Tullikamari
27 Nov 19 Helsinki (FI) Tavastia
29 Nov 19 Stockholm (SE) Fryshuset Klubben
30 Nov 19 Gothenburg (SE) Pustervik
Headline shows Russia
06 Dec 19 Moscow (RU) Aglomerat
07 Dec 19 St. Petersburg (RU) MOD
Gaahls WYRD 2020
18 Feb 20 York (UK) Descended from Odin Festival (Exact date tba)
11 Apr 20 Munich (DE) Dark Easter Metal Meeting (Exact date tba)
GAAHLS WYRD will be touring in support of their latest album 'GastiR – Ghost Invited', which can still be ordered in the Season of Mist shop.
Join GAAHLS WYRD on their official Facebook page.
View Gaahls Wyrd