HEILUNG – Lifa – May 29, 2018
Posted on May 29, 2018
More information about Lifa
HEILUNG have added more festivals this summer. The Danish band will kick of their festival tour at the Graspop Metal Meeting in Dessel (BE) on June 21, and continue performing their mind-blowing live show at festivals such as Hellfest (FR), Roskilde (DK) and Wacken Open Air (DE). See the full list of tour dates below.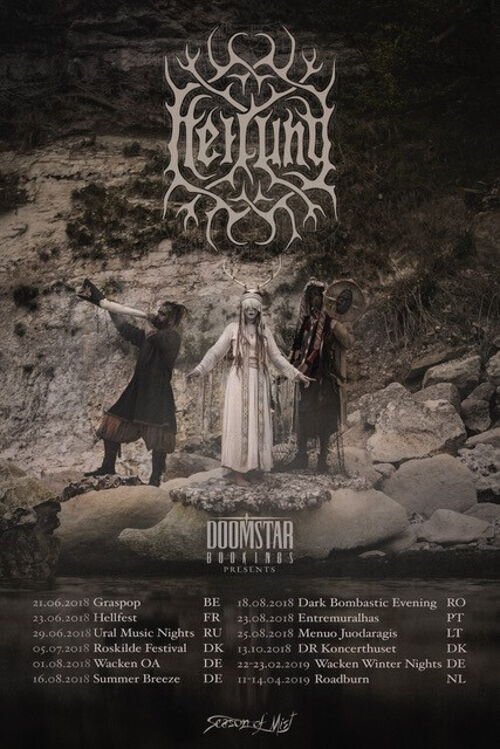 HEILUNG
21 Jun 18 Dessel (BE) Graspop Metal Meeting
23 Jun 18 Clisson (FR) Hellfest
29 Jun 18 Yekaterinburg (RU) Ural Music Nights
05 Jul 18 Roskilde (DK) Roskilde Festival
01 Aug 18 Wacken (DE) Wacken Open Air
16 Aug 18 Dinkelsbühl (DE) Summer Breeze Open Air
18 Aug 18 Ryma, Albaiulia (RO) Dark Bobastic Evening
23 Aug 18 Leiria (PT) Entremuralhas
25 Aug 18 Molavenai, Raseiniu raj (LT) Menuo Juodaragis
13 Oct 18 Copenhagen (DK) DR Koncerthuset
22 Feb 19 Wacken (DE) Wacken Winter Nights (Exact date TBC)
11 Apr 19 Tilburg (NL) Roadburn Festival (Exact date TBC)
HEILUNG will be playing in support of their debut full-length, 'Ofnir' (2015) which was re-released by Season of Mist. Cover artwork and album details can be viewed below.
Opening Ceremony
In Maidjan
Alfadhirhaiti
Carpathian Forest
Krigsgaldr
Hakkerskaldyr
Fylgija Ear / Futhorck
Othan
Hamrer Hippyer
'Ofnir' can still be ordered in various formats in the Season of Mist shop
Join HEILUNG on their official Facebook page.
View Heilung