HELL MILITIA – Jacob's Ladder – November 6, 2014
Posted on November 6, 2014
More information about Jacob's Ladder
HELL MILITIA have announced a string of European concerts for the second half of this November. The French black metal industrialists will be joined by Swedish underground Satanists KILL and ATER ERA from Slovenia. You can find a full list of confirmed dates below.
This road rage will kick off in Germany at From Hell in Erfurt on November 21st and continue to preach the black gospel in the Czech Republic, Hungary, Slovenia, Italy and Switzerland before the final black mass in Saint Etienne, France on November 29th.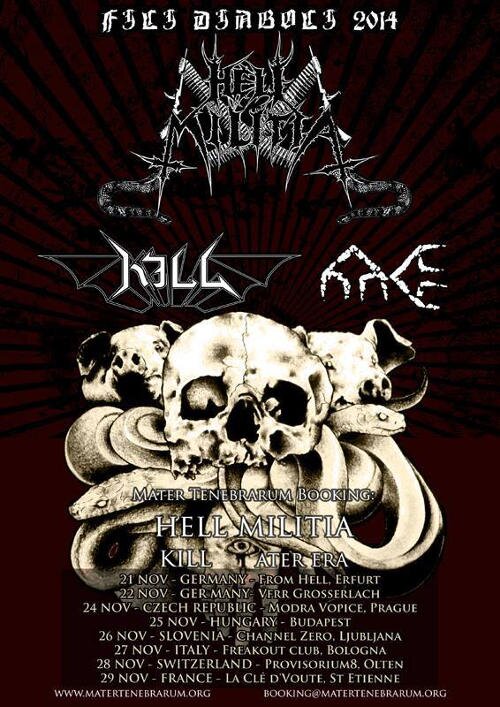 Nov 21, 2014 DE Erfurt From Hell
Nov 22, 2014 DE Großerlach VFRR
Nov 24, 2014 CZ Praha Modra Vopice
Nov 25, 2014 HU Budapest TBA
Nov 26, 2014 SI Ljubljana Channel Zero
Nov 27, 2014 IT Bologna Freakout Club
Nov 28, 2014 CH Olten Provisorium 8
Nov 29, 2014 FR Saint Etienne La Clé d'Voute
HELL MILITIA will be touring in support of their current full-length 'Jacob's Ladder', which is streaming in full here. The album is still available as Digipak CD and on vinyl LP via the Season of Mist shop.
Jacob's Ladder
Jonah
Sternenfall
Death Worship
The Black Projector
The Second Coming of the Pig
Deus Irae
Jericho
View Hell Militia