The Finnish doom cultists of HOODED MENACE have revealed a new line up which marks the return of their old drummer Pekka Koskelo. Below you can find an extended comment where HOODED MENACE enlighten their choice of line-up and the recent decision to stop performing live.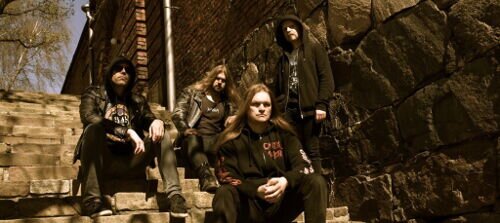 "Since we quit performing live, at least for now, we have decided to move our head-quarters (read: rehearsal place) from Helsinki back to Joensuu. This means, quite naturally, the return of our old drummer Pekka Koskelo to Hooded Menace! Now that the band is more studio-focused, it is tentatively agreed that guitarist Lasse Pyykkö will be handling all bass duties from now on, just like he did on the latest album "Ossuarium Silhouettes Unhallowed" and on most Hooded Menace albums in general. Teemu Hannonen continues on rhythm guitar and Harri Kuokkanen as vocalist of the band.
We would like to thank drummer Otso Ukkonen and bass player Antti Poutanen for the talent and enthusiasm they've put in the live shows and we wish them nothing but the best in the future. Both guys will focus on their other bands, Otso with Krypts and Antti with Devenial Verdict. Keep your eyes peeled for their future endeavors!
Of course, we'll consider anyone talented and suitable enough as a full-time or live-bassist, if the right person comes our way in Joensuu area. Since we´re not planning on performing live in the near future, we are not actively searching for anyone at the moment.
When it comes to Hooded Menace live shows…. never say never. With the right timing and offer, there's always a chance, but currently we're more than happy to focus on other things. Thank you for reading!"
HOODED MENACE have released their new album, 'Ossuarium Silhouettes Unhallowed' on January 26th, 2018. The artwork has been created by Adam Burke (SÓLSTAFIR, PORTRAIT) can be viewed below.
Sempiternal Grotesqueries
In Eerie Deliverance
Cathedral of Labyrinthine Darkness
Cascade of Ashes
Charnel Reflections
Black Moss
'Ossuarium Silhouettes Unhallowed' is still available in various formats in the Season of Mist shop.
Join HOODED MENACE on their official Facebook page.
View Hooded Menace