IMPURE WILHELMINA – Radiation – March 13, 2018
Posted on March 13, 2018
More information about Radiation
IMPURE WILHELMINA are revealing a pro-shot performance video for the song, "We Need a New Sun", which is taken from the Swiss' latest album, 'Radiation'. The filming by Brunelle Gerber underscores the excellent dynamics and masterful tension-building of this track that moves from bleak melancholy to an outburst of furious despair.
"We Need a New Sun" can be viewed via the official Season of Mist YouTube channel here!
IMPURE WILHELMINA comment: "We are proud to present our new video for the song 'We Need a New Sun'. The images were shot during two shows that we played last year. On this basis, we wanted to transcribe both the energy of our live performances and the very special atmosphere of this song. Brunelle Gerber, who directed the video, managed to reconcile these two dimensions in a particularly sensitive and aesthetic way."
On previous news, IMPURE WILHELMINA have announced a new European tour in support of their latest album, 'Radiation'.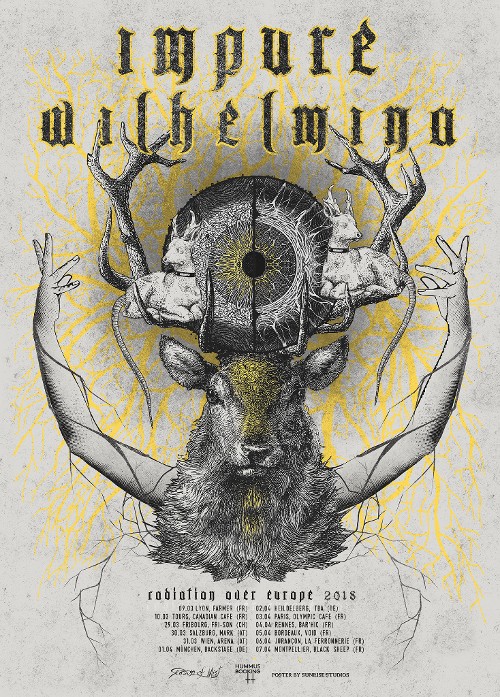 IMPURE WILHELMINA Tour
29 Mar 18 Fribourg (CH) Fri-Son
30 Mar 18 Salzburg (AT) Mark
31 Mar 18 Wien (AT) Arena
01 Apr 18 München (DE) Backstage (Dark Easter Metal Meeting)
02 Apr 18 Heidelberg (DE) tba
03 Apr 18 Paris (FR) Olympic Café
04 Apr 18 Rennes (FR) Bar'Hic
05 Apr 18 Bordeaux (FR) Void
06 Apr 18 Jurançon (FR) La Ferronnerie
07 Apr 18 Montpellier (FR) The Black Sheep
IMPURE WILHELMINA Live
14 Apr 18 Saignelégier (CH) Espace Culturel Café du Soleil
25 May 18 Bern (CH) Dachstock Reitschule
08 Jun 18 Limoges (FR) El-Doggo
IMPURE WILHELMINA comment: "We are beyond excited to hit the road again and spread the vibes of 'Radiation' around Europe. We can't wait to visit new cities and come back to others that we didn't play in for more than a decade. On our way, we are stoked to be part of the killer line-up of the Dark Easter Metal Meeting in München, Germany, on April 1st. See you all at the shows!"
Artwork and track-list of 'Radiation' can be viewed below.
Great Falls beyond Death
Sacred Fire
Child
Torn
We Need a New Sun
Meaningless Memories
Bones and Heart
By Ravens and Flies
Murderers
Race with You
'Radiation' can still be ordered in various formats from the Season of Mist shop
Join IMPURE WILHELMINA on their official Facebook page!
View Impure Wilhelmina