IMPURE WILHELMINA – Radiation – December 21, 2018
Posted on December 21, 2018
More information about Radiation
IMPURE WILHELMINA have announced a string of shows with RORCAL in February 2019. The tour starts on February 15 in Chambéry (FR) and sees the band playing in Spain and Portugal as well. Find a full list of tour dates below.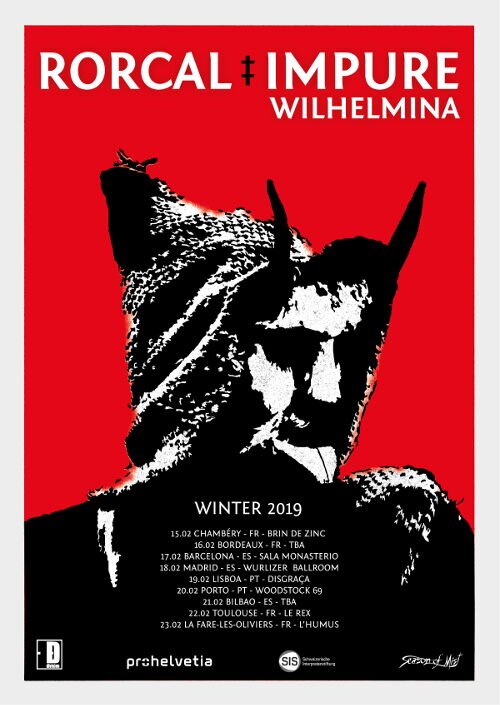 IMPURE WILHELMINA comment: "We are thrilled to join forces again with our friends RORCAL for a bunch of shows in southern Europe. This tour will mark our very first appearance in Spain and Portugal. Also we are glad to be back in some French cities where we haven't played for many years. Let's spread the vibes of 'Radiation' once again before we focus on our next album!"
IMPURE WILHELMINA with RORCAL
15 Feb 19 Chambéry (FR) Brin de Zinc
16 Feb 19 Bordeaux (FR) TBA
17 Feb 19 Barcelona (ES) Sala Monasterio
18 Feb 19 Madrid (ES) Wurlizer Ballroom
19 Feb 19 Lisboa (PT) Disgraca
20 Feb 19 Porto (PT) Woodstock 69 Rock Bar
21 Feb 19 Bilbao (ES) TBA
22 Feb 19 Toulouse (FR) Le Rex
23 Feb 19 La Fare-les-Oliviers (FR) L'Humus
The band will be touring in support of their latest album, 'Radiation' which is still available in the Season of Mist shop.
Join IMPURE WILHELMINA on their official Facebook page.
View Impure Wilhelmina