IMPURE WILHELMINA – Radiation – February 19, 2019
Posted on February 19, 2019
More information about Radiation
IMPURE WILHELMINA have kicked off their tour with RORCAL. The tour started last Friday, February 15 in Chambéry (FR) and sees the band playing in Southern Europe. The full list of confirmed dates can be found below.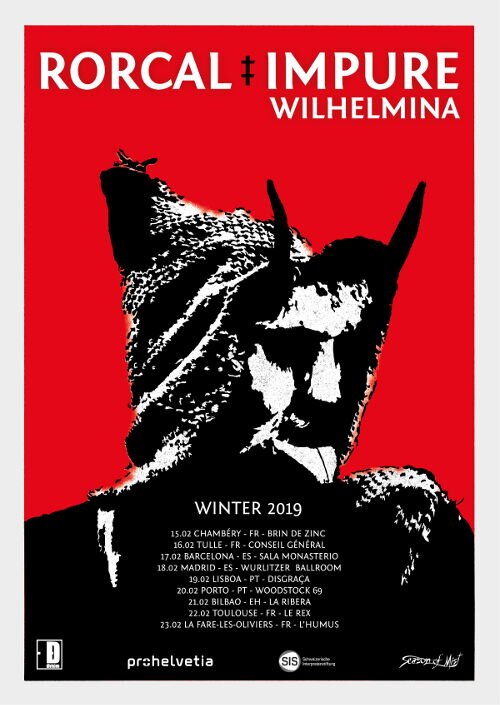 IMPURE WILHELMINA with RORCAL
19 Feb 19 Lisboa (PT) Disgraca
20 Feb 19 Porto (PT) Woodstock 69 Rock Bar
21 Feb 19 Bilbao (ES) La Ribera
22 Feb 19 Toulouse (FR) Le Rex
23 Feb 19 La Fare-les-Oliviers (FR) L'Humus
IMPURE WILHELMINA have recently premiered a new video for the song "Murderers" which was taken from the band's latest album 'Radiation' (2017). Watch the clip via the official Season of Mist Youtube Channel here.
The band comments on the video: "We are proud to present our new video for the song «Murderers» taken from «Radiation». This song is about the loss of spirituality in the contemporary world, although it is still perennial around us. The religious representations are often seen as empty shells, and they are, because they can't make sense to a faithless soul. To catch the particular spirit of this song, we worked again with the talented Brunelle. Hope you will enjoy it as much as we do."
IMPURE WILHELMINA will be touring in support of their latest album, 'Radiation', which has been released on July 7th, 2017. The record is still available in the Season of Mist shop HERE.
Join IMPURE WILHELMINA on their official Facebook page.
View Impure Wilhelmina