The Brazilian black metal underground stalwarts of MYSTIFIER will return to Europe in July 2020 for a run of festivals and club shows together with DEMONICAL. The 'Summer Plague Dynasty tour' will kick off of on July 2nd at the Under The Black Sun Festival in Friesack (DE). The rampage ends at the might Flammen Open Air festival in Torgau (DE) on the 11th of July. A full list of dates can be found below.
MYSTIFIER lead guitarist Beelzeebubth comments on the tour: "Even if this will be our sixth European tour it will be the first time in our career we are flying over to promote a new album, we never had such privilege before! We would like to thank mighty Martin (DEMONICAL) and Dreamtide Music Management & Agency for the opportunity. It will be great to play the best fucking European underground summer-festivals as since the release of our last album, "Protogoni Mavri Magiki Dynasteia" (March 2019, Season of Mist), we have been preparing to spread our Musick in every part of this damned planet!"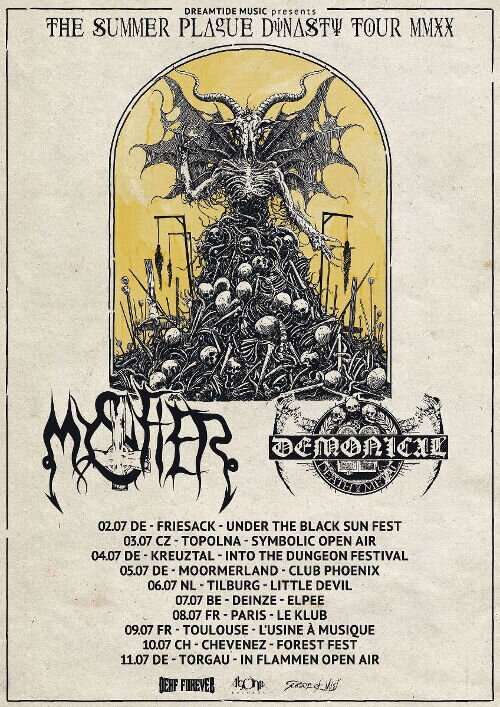 MYSTIFIER The Summer Plague Dynasty tour 2020 + DEMONICAL
02 Jul 20 Friesack (DE) Under the Black Sun Fest
03 Jul 20 Topolna (CZ) Symbolic Open Air
04 Jul 20 Kreuztal (DE) Into the Dungeon Festival
05 Jul 20 Moormerland (DE) Club Phoenix
06 Jul 20 Tilburg (NL) Little Devil
07 Jul 20 Deinze (BE) Elpee
08 Jul 20 Paris (FR) Le Klub
09 Jul 20 Toulouse (FR) L'Usine A Musique
10 Jul 20 Chevenez (CH) Forest Fest Open Air
11 Jul 20 Torgau (DE) In Flammen Open Air
MYSTIFIER will be touring in support of their latest album 'Protogoni Mavri Magiki Dynasteia', which is still available in the Season of Mist shop.
Follow MYSTIFIER via their official Facebook page.
View Mystifier