NECROWRETCH – Satanic Slavery – November 6, 2018
Posted on November 6, 2018
More information about Satanic Slavery
After successfully concluding their burial procession through Europe, NECROWRETCH have kicked off their previously announced Asian tour. A full list of confirmed shows can be found below.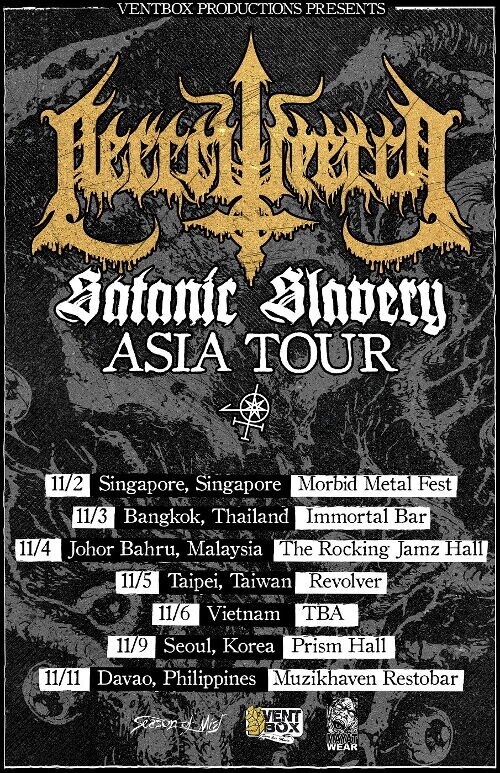 NECROWRETCH Asian tour dates
06 Nov 18 Ho Chi Minh (VN) Rock Fan Club
09 Nov 18 Seoul (KR) Prism Hall
11 Nov 18 Davao (PH) Muzikhaven Restobar
Front-man Vlad comments on the tour: "We are back in Asia to deliver our pure satanic death metal. Many people are waiting for us for many years, and we're really glad to establish a connection with this part of the world. Due to others issues and commitments, Desecrator and Ilmar cant be part of this leg so french black metal FHOI MYORE's drummer Nico will handle the drums during the tour."
In celebration of the tour, the band released a brand new video of the song "Tredeciman Blackfire", which can be listened to via the official Season of Mist YouTube channel here.
NECROWRETCH comment on the video: "Satan's Sorcery ! Today marks the unleash of the long awaited video for 'Tredeciman Blackfire'. Shot during shows and rehearsals, this video shows one of our most savage songs!"
NECROWRETCH are touring in support of their current album, 'Satanic Slavery', which is still available in the Season of Mist shop.
Join NECROWRETCH on their official Facebook page.
Sprawl of Sin
Tredeciman Blackfire
Satanic Slavery
Evil Names
Hellspawn Pyre
Bestial Rites
Curse of Blasphemy
Verses from the Depths
View Necrowretch