SILENT STREAM OF GODLESS ELEGY – Nvaz – October 16, 2013
Posted on October 16, 2013
More information about Návaz
Czech folk metal band and two times winners of their national Grammy award SILENT STREAM OF GODLESS ELEGY have just released a new live video featuring a performance of "Mokoš" (a song from their most recent album 'Návaz') at the Masters Of Rock Festival 2013. The clip is streaming now with the following media partners:
Spark (CZ)
VS-Webzine (FR)
Terrorizer (UK)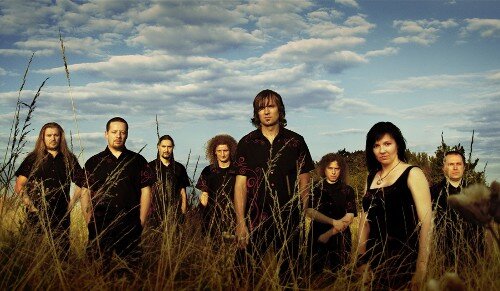 'Návaz' is out on Season of Mist and can be ordered here.
Ever since the band emerged from Hranice in Moravia, deep within the Slavonic heartlands, in 1995, SILENT STREAM OF GODLESS ELEGY have been at the forefront of folk metal. Raised beyond the ordinary by Hanka Hajdová's warm and clear female vocals (that find their natural counterpoint in Pavel Hrnčíř's strong male voice), this engaging octet are ready to take on the world, staking their claim as pioneers of the folk metal genre.
View Silent Stream of Godless Elegy