ALTARAGE – The Approaching Roar – July 23, 2019
Posted on July 23, 2019
More information about The Approaching Roar
Enigmatic Spanish metal extremists ALTARAGE are now announcing new European tour dates for this summer. A full list of confirmed shows can be found below.
Together with the Australians of ESKHATON, ALTARAGE will kick off the 'Obliviiolence tour' at the mighty Brutal Assault in Jaroměř (CZ), followed by performances in Poland, Germany, Denmark, The Netherlands, UK and France.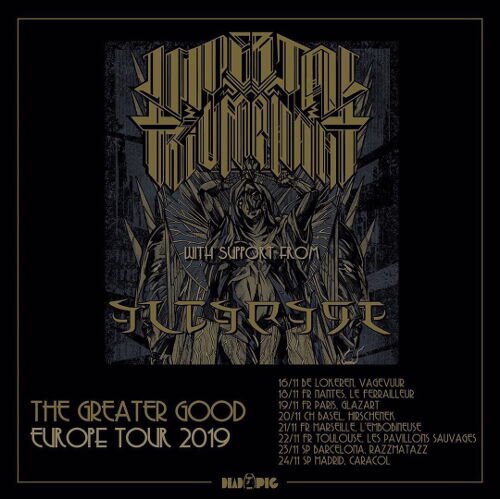 ALTARAGE
10 Aug 19 Jaromer (CZ) Brutal Assualt Festival
11 Aug 19 Warsaw (PL) DK Luksus
12 Aug 19 Wroclaw (PL) Poglos
13 Aug 19 Szcezcin (PL) Jambar
14 Aug 19 Kiel (DE) Alte Meierei
15 Aug 19 Copenhagen (DK) Pumpehuset
16 Aug 19 Hamburg (DE) Bambi Galore
17 Aug 19 Leiden (NL) Studio De Veste
18 Aug 19 London (UK) Boston Music Room
19 Aug 19 Paris (FR) Le Klub
20 Aug 19 Karlsruhe (DE) AKK
ALTARAGE will be touring in support of their freshly released new album 'The Approaching Roar', which is still available in the Season of Mist shop.
Join ALTARAGE on their official Facebook page.
View Altarage