ALTARAGE – The Approaching Roar – September 3, 2019
Posted on September 3, 2019
More information about The Approaching Roar
Enigmatic Spanish metal extremists ALTARAGE have announced a number of European tour dates in support of IMPERIAL TRIUMPHANT this November. A full list of confirmed shows can be found below.
The tour will start on November 16 in Belgium, and continue through France, Switzerland and Spain until the final curtain in Madrid on November 24.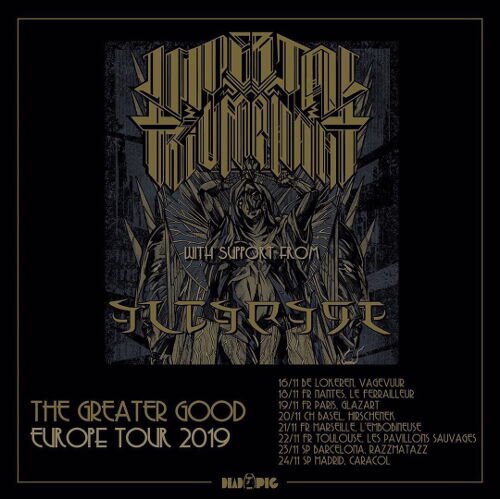 ALTARAGE + IMPERIAL TRIUMPHANT
16 Nov 19 Lokeren (BE) Vagevuur
18 Nov 19 Nantes (FR) Le Ferrailleur
19 Nov 19 Paris (FR) Glazart
20 Nov 19 Basel (CH) Hirschenek
21 Nov 19 Marseille (FR) L'Embobineuse
23 Nov 19 Barcelona (ES) Razzmatazz
24 Nov 19 Madrid (ES) Caracol
ALTARAGE live
14 Dec 19 Porto (PT) Auditorio CCOP (+Bong +Gnaw Their Tongues)
08 Feb 20 Barcelona (ES) Sala Boveda
ALTARAGE will be touring in suppport of their freshly released new album 'The Approaching Roar', which is still available in the Season of Mist shop.
Join ALTARAGE on their official Facebook page.
View Altarage