FAIR TO MIDLAND – Arrows and Anchors – August 3, 2011
Posted on August 3, 2011
More information about Arrows and Anchors
FAIR TO MIDLAND will be touring Europe in November! The Texan loonies have been confirmed as opening act for EVANESCENCE, with THE PRETTY RECKLESS completing the bill. The tour has been scheduled as follows:
04 Nov 11 London (UK) Hammersmith Apollo
05 Nov 11 London (UK) Hammersmith Apollo
07 Nov 11 Manchester (UK) Apollo
08 Nov 11 Glasgow (UK) Academy
10 Nov 11 Plymouth (UK) Pavilion
12 Nov 11 Leeds (UK) Academy
13 Nov 11 Birmingham (UK) Academy
16 Nov 11 Paris (FR) Olympia
17 Nov 11 Offenbach (DE) Stadthalle
18 Nov 11 Düsseldorf (DE) Mitsubishi Electric Halle
20 Nov 11 Berlin (DE) Columbiahalle
21 Nov 11 München (DE) Zenith
FAIR TO MIDLAND will also play the following gigs as headliner:
06 Nov 11 Sheffield (UK) Corporation
11 Nov 11 Southampton (UK) Joiners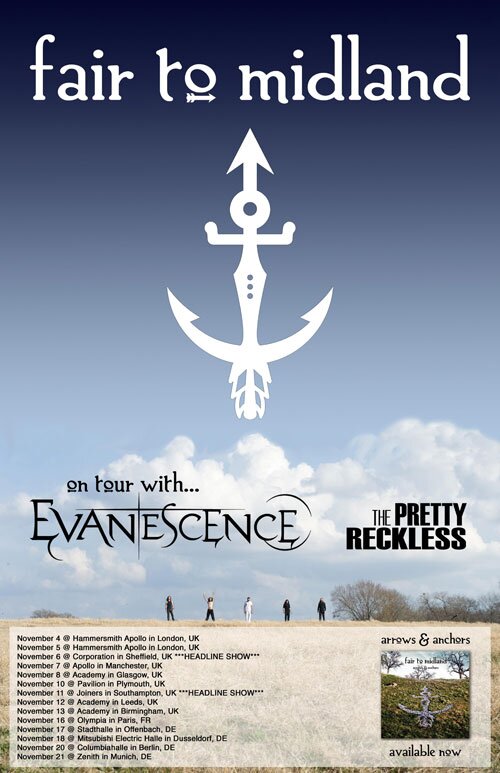 "Arrows & Anchors" is available as digipak edition with a bonus track limited to the first pressing on Season of Mist's e-shop.
View Fair To Midland