KEN MODE – Loved – November 15, 2018
Posted on November 15, 2018
More information about Loved
KEN mode are about to kick off their European dates with BIRDS IN A ROW and COILGUNS at the Temps Machine, Joué (FR) tomorrow, November 15. The tour sees the band hit several stages throughout Europe, until a final curtain at Magazin 4 in Brussel (BE) on December 02. A full list of confirmed shows can be found below.
Regarding the tour, Jesse Matthewson comments: "It's been a long three and a half years since we've been over to Europe, so we're very excited to embark on the second leg of our dates with Birds In Row – with a bonus Coilguns for good measure! Our brand of nihilistic noise has always been appreciated by the French, so we're doing a lot of shows in France on this trip, but we're already planning dates for 2019 for some other spots that we missed this time around. The first round of dates in the US were some of the best shows we've ever had, so we're very stoked to get back to Europe!"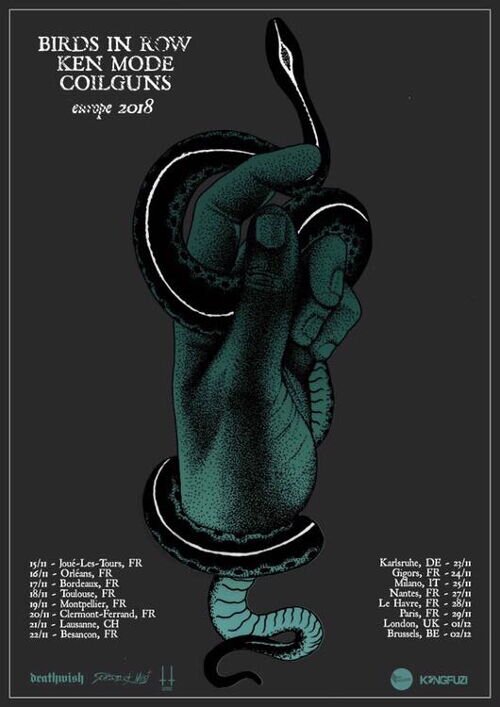 KEN MODE + BIRDS IN A ROW + COILGUNS
15 Nov 18 Joué (FR) Temps Machine
16 Nov 18 Orléans (FR) Astrolabe
17 Nov 18 Bordeaux (FR) Void
18 Nov 18 Toulouse (FR) Rex
19 Nov 18 Montpellier (FR) Blacksheep
20 Nov 18 Clermont (FR) Raymond
21 Nov 18 Lausanne (CH) Romandie
22 Nov 18 Besancon (FR) L'Antonnoir
23 Nov 18 Karlsruhe (DE) Die Stadtmitte
24 Nov 18 Gigors (FR) CBGC'S
25 Nov 18 Milano (IT) Magnolia
26 Nov 18 Nice (FR) Altherax
27 Nov 18 Nantes (FR) Le Ferrailleur
28 Nov 18 Le Havre (FR) Fort de Tourneville
29 Nov 18 Paris (FR) Le Petit Bain
30 Nov 18 Lille (FR) Le Bistrot de St. So
01 Dec 18 London (UK) Macbeth
02 Dec 18 Brussel (BE) Magasin 4
KEN mode will be touring in support of their new album 'Loved'. The record is still available in the Season of Mist.
Join KEN mode on their official Facebook page.
View KEN mode