KEN MODE – Loved – February 6, 2019
Posted on February 6, 2019
More information about Loved
Canadian noise rockers KEN mode have been nominated for a JUNO Award along with label-mates BEYOND CREATION. Read more on the awards and nominees below.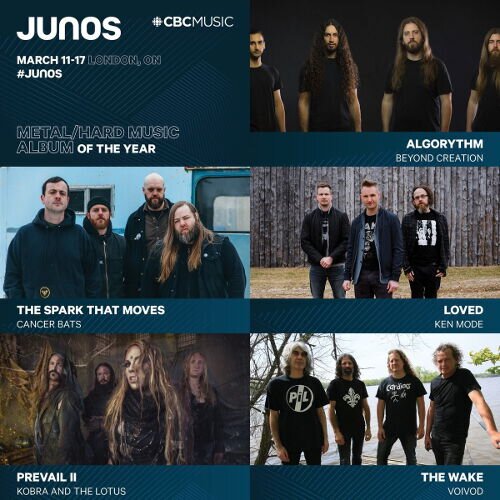 The bands will be vying for the title of Metal/Hard Rock Album of the Year. A full list of nominees in the category are as follows:
BEYOND CREATION – Algorythm
KEN MODE – Loved
CANCERBATS – The Spark That Moves
KOBRA AND THE LOTUS – Prevail II
VOIVOD – The Wake
The full list of JUNO categories and nominees can be found HERE.
Speaking about the nomination, KEN mode's Jesse Matthewson said, "It's always a cool feeling to get national mainstream recognition. It's certainly not something we ever thought would happen when we first started playing anti-social outsider music in the first place – no matter how many times it happens to us, it's always mildly surprising (this being our fourth nomination, having won in 2012). It's great being up there with pals BEYOND CREATION + CANCER BATS, and of course the legendary VOIVOD – who we actually made a point of condemning the Canadian music industry for their lack of recognition of back in 2012 when we won the award in its debut year. With the Grammy's seeming to have their first legit lineup of modern metal, it's good to see that Canada is continuing to nominate legit underground music for such an award as well. If we win, we're going to construct a championship belt out of our 2012 and 2019 awards and power-bomb every other Canadian metal band through flaming tables for the rest of the year."
KEN MODE has been nominated for their record Loved,' which is still available in the Season of Mist Shop.
Join KEN MODE on their official Facebook page.
View KEN mode