MAYHEM – Esoteric Warfare – January 16, 2018
Posted on January 16, 2018
More information about Esoteric Warfare
MAYHEM are kicking off the live delivery of their complete landmark debut album, 'De Mysteriis Dom Sathanas' to Down Under. The Norwegian black metal icons will be joined by local label mates DÉPARTE and will be supported by BÖLZER and RUINS. A list of all confirmed MAYHEM shows in Australia and New Zealand can be viewed below.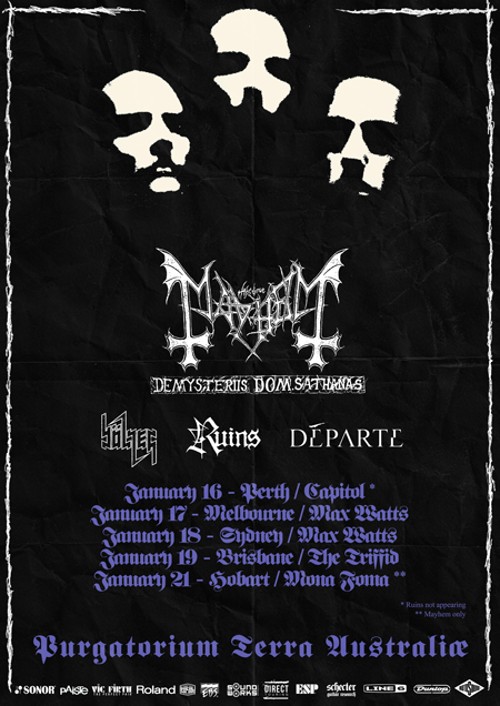 MAYHEM Australia + DÉPARTE + BÖLZER + RUIN
16 Jan 18 Perth (AU) Capitol
17 Jan 18 Melbourne (AU) Max Watts
18 Jan 18 Sydney (AU) Max Watts
19 Jan 18 Brisbane (AU) The Triffid
21 Jan 18 Hobart (AU) Mona
MAYHEM New Zealand
23 Jan 18 Auckland (NZ) The Kings Arms Tavern
MAYHEM Festivals
01 Apr 18 Philadelphia, PA (US) Decibel Metal & Beer Festival
MAYHEM's latest critically acclaimed album, 'Esoteric Warfare' is streaming in full here and can be ordered in various formats from the Season of Mist shop. The cover of 'Esoteric Warfare', which has been created by renowned Polish artist Zbigniew M. Bielak (GHOST, PARADISE LOST, BÖLZER, ZHRINE) can be viewed together with the track-list below.
Watchers
Psywar
Trinity
Pandaemon
MILAB
VI.Sec.
Throne of Time
Corpse of Care
Posthuman
Aion Suntelia
'Esoteric Warfare' can still be pre-ordered in various formats from the Season of Mist shop
Join MAYHEM on their official Facebook page!
View Mayhem