MAYHEM – Esoteric Warfare – May 7, 2018
Posted on May 7, 2018
More information about Esoteric Warfare
MAYHEM have announced a new Latin American tour in support of their latest release 'Esoteric Warfare'. A full list of confirmed appearances can be found below.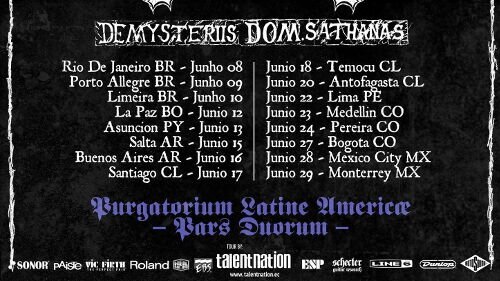 MAYHEM tour dates
08 Jun 18 Rio de Janeiro (BR) Casarao Ameno Reseda
09 Jun 18 Porto Alegre (BR) Art and Tattoo Club
10 Jun 18 Limeira (SP) Bar da Montanha
12 Jun 18 La Paz (BO) Inti Palace
14 Jun 18 Asuncion (PY) Absoluto Rock
15 Jun 18 Salta (AR) Salta
16 Jun 18 Buenos Aires (AR) Uniclub
17 Jun 18 Santiago (CL) Blondie
18 Jun 18 Temuco (CL) Centro de Eventos Puerto Madero
20 Jun 18 Antofagasta (CL) Marbella Disco Club
22 Jun 18 Lima (PE) Centro de Convenciones Festival
23 Jun 18 Medellin (CO) Matacandelas
24 Jun 18 Pereira (CO) Discoteca Casa Pueblo
28 Jun 18 Cuauhtémoc (MX) Sala Puebla
29 Jun 18 Monterrey (MX) Escena Monterrey
MAYHEM previously released their most recent critically-acclaimed album, 'Esoteric Warfare' in summer 2014. Artwork and track list can be viewed below.
Watchers
Psywar
Trinity
Pandaemon
MILAB
VI.Sec.
Throne of Time
Corpse of Care
Posthuman
Aion Suntelia
'Esoteric Warfare' can still be ordered in various formats from the Season of Mist shop
Join MAYHEM on their official Facebook page!
View Mayhem