MENACE – Impact Velocity – July 24, 2015
Posted on July 24, 2015
More information about Impact Velocity
MENACE, the musically many-faceted brainchild of NAPALM DEATH axeman Mitch Harris, is currently engaged in extra-terrestrial activity. Mastermind Mitch explains his involvement with NASA's New Horizon mission to Pluto and the One Earth Message project below.
Mitch comments: "Years ago, I was affiliated with the Beagle 2 Mission to Mars, which sadly failed to send a monumental signal to Earth. I admired the efforts of Colin Pillinger and his ambition to combine music, art and science with the best intentions of finding life elsewhere in the solar system.
"It's always been one of my wildest dreams to compose a song, or a MESSAGE that might have the potential to reach deep space with an unknown recipient for an unlimited timescale spreading concept, intelligence and awareness of Humanity.
"I'm hopeful that the efforts of Jon Lomberg's One Earth Message, NASA and the New Horizons' mission to study Pluto and beyond our solar system will be a success! We're doing our best to complete the worthy effort at present to be beamed to the New Horizon's craft and we are eager for the end result.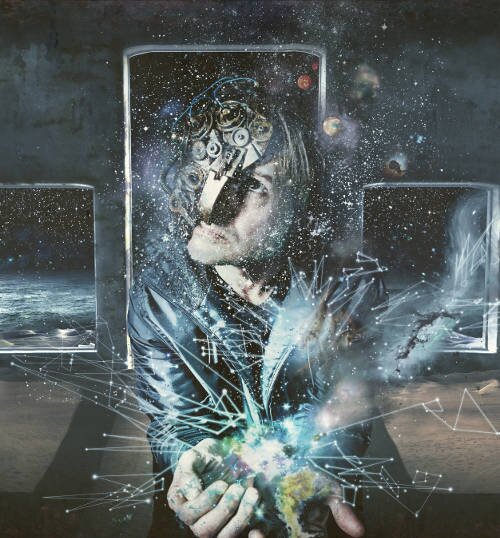 "Wish us luck! Your support will help project a lifetime of dedication for the benefit of Universal Purpose. I feel honored to be considered for such a monumental task! Only your participation can make this vision happen.
"Right now I'm completely over the moon, and I'm grateful that they are featuring one of my favorite MENACE tracks and video for "To The Marrow". It's an extremely emotional song, with the kind of futuristic enthusiasm humanitarian approach that could inspire a younger generations' interest in space exploration.
"Thankfully, I'm working with the help of our long time producer RUSS RUSSELL on the project, and you can expect some interesting results."
For more information on the project and the MENACE song "To the Marrow", please read below.
The track "To the Marrow" originally appears on the critically acclaimed MENACE debut album 'Impact Velocity' (REVOLVER album of the week March 2014). The video features the celebrated Ukrainian sand artist Kseniya Simonova and can be viewed here.
'Impact Velocity' is still available from the Season of Mist shop and streaming in full here.
Find out more about the One Earth Message and New Horizon projects at the links below:
ONE EARTH MESSAGE
www.oneearthmessage.org
www.facebook.com/pages/One-Earth-Message/760825987274752
www.youtube.com/watch?v=1dOiFJ-5QbA
NEW HORIZONS
www.newhorizonsmessage.com
NASA's PROJET SUPPORT
www.youtube.com/watch?v=4Lthof7LpbY
I Live With Your Ghost
Painted Rust
Multiple Clarity
To The Marrow
I Won't See The Sun
Drowning In Density
Positron
Everything And Nothing
Within Context
Malicious Code
Impact Velocity
Seamless Integration
View Menace