Seminally influential Extreme Metal act MORBID ANGEL have set "Illud Divinum Insanus" as the title of their eagerly awaited forthcoming album, which has been scheduled for a June 6th release (one day later in North America). "Illud Divinum Insanus" will be MORBID ANGEL's eighth studio album, and the first since legendary frontman David Vincent rejoined the fold. Here is the cover artwork of this new opus, designed by Gustavo Sazes: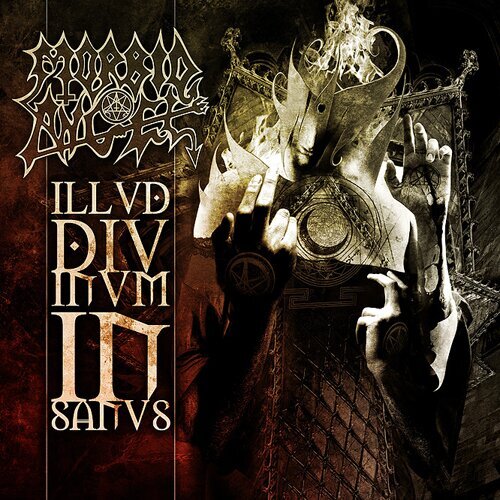 The artist stated: "To create this cover we worked from several references, ideas, elements, and I would say a "world" of options and paths. After a long brainstorming period and some [good and bad] ideas left behind we came up with the concept of this organic surreal insane being; a fallen God or a weird mirror image of our own madness. It is a different Morbid Angel cover for sure, but I think that's how Morbid Angel is…Deviant and different on each new release. They never repeat themselves. They are always pushing the boundaries and setting new standards. I'm really proud of the final results and hope the fans appreciate my work, while listening to the new album!"
Prior to the release of the album, a single for the song "Nevermore" will be out on May 16th as 7″ vinyl and digital download. The B side is an exclusive version of new song "Destructos VS the Earth", remixed by COMBICHRIST.
"Of all the remixes I've been asked to do I never expected one of the world's most notorious death metal bands to have an interest in hearing their music on the dance floor", COMBICHRIST mainman Andy LaPlegua comments. "However, 'Destructos' is one of those tracks that are so versatile that it could have been recorded as a folk song and it would still sound amazing. I'm honored to be a part of this project and am excited to see how the Morbid Angel fans react to this unusual new direction."
The cover artwork for the single was designed by French artists Valnoir and Fursy Teyssier for Metastazis:
Nevermore
Destructos VS The Earth (Combichrist remix)
View Morbid Angel