MORBID ANGEL – Illud Divinum Insanus – September 10, 2013
Posted on September 10, 2013
More information about Illud Divinum Insanus
Cult extreme act MORBID ANGEL recently announced the 'Covenant–United States Tour 1993-2013'. The tour will celebrate the 20th anniversary of MORBID ANGEL's legendary album 'Covenant'. See tour dates below.
In 1992, MORBID ANGEL was the first death metal band to be signed to a major label (Giant Records / Warner Brothers) and 'Covenant' was to be their first release on that label in the USA. The album was released on June 22nd, 1993 and went on to garner great critical and commercial success. On tour, the band will play the 'Covenant' album in its entirety and, after a short intermission, some additional surprise classic cuts. Further, there will be special commemorative items produced exclusively for this tour.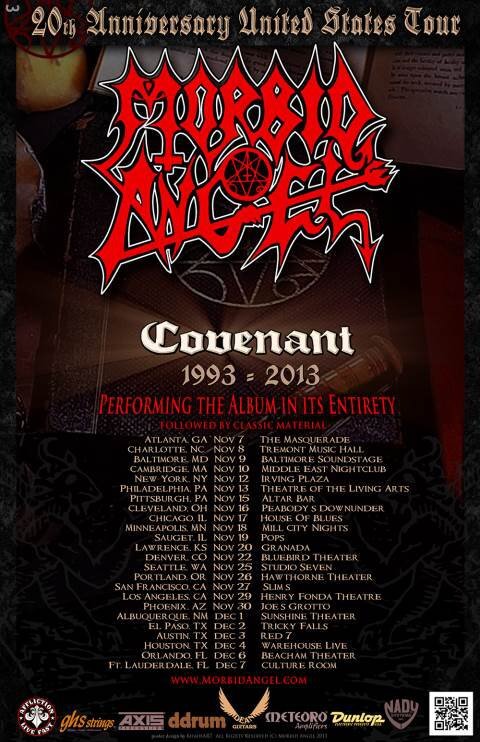 07 Nov 13 Atlanta, GA (US) The Masquarade
08 Nov 13 Charlotte, NC (US) The Casbah @ Tremont Music Hall
09 Nov 13 Baltimore, MD (US) Baltimore Soundstage
10 Nov 13 Cambridge, MA (US) Middle East Restaurant & Nightclub
12 Nov 13 New York, NY (US) Irving Plaza
13 Nov 13 Philadelphia, PA (US) Theatre of the Living Arts
15 Nov 13 Pittsburgh, PA (US) Altar Bar
16 Nov 13 Cleveland, OH (US) Peabody's Downunder
17 Nov 13 Chicago, IL (US) House Of Blues
18 Nov 13 Minneapolis, MN (US) Mill City Nights
19 Nov 13 Sauget, IL (US) Pops
20 Nov 13 Lawrence, KS (US) Granada
22 Nov 13 Denver, CO (US) Bluebird Theater
23 Nov 13 Murray, UT (US) Murray Theater
25 Nov 13 Seattle, WA (US) Studio Seven
26 Nov 13 Portland, OR (US) Hawthorn Theater
27 Nov 13 San Francisco, CA (US) Slim's
29 Nov 13 Los Angeles, CA (US) Henry Fonda Theatre
30 Nov 13 Phoenix, AZ (US) Joe's Grotto
01 Dec 13 Albuquerque, NM (US) Sunshine Theater
02 Dec 13 El Paso, TX (US) Tricky Falls
03 Dec 13 Austin, TX (US) Red 7
04 Dec 13 Houston, TX (US) Warehouse Live
06 Dec 13 Orlando, FL (US) Beacham Theater
07 Dec 13 Ft. Lauderdale, FL (US) Culture Room
The MORBID ANGEL fans who purchased the triptych box of 'Illud Divinum Insanus' are requested to scan the QR code on their box (you can find it inside the leather book and on the back of the LP), using a mobile phone. This will take you to a special page for box owners and will provide advance information as well as special offers from time to time. For the others, the triptych box is still available here.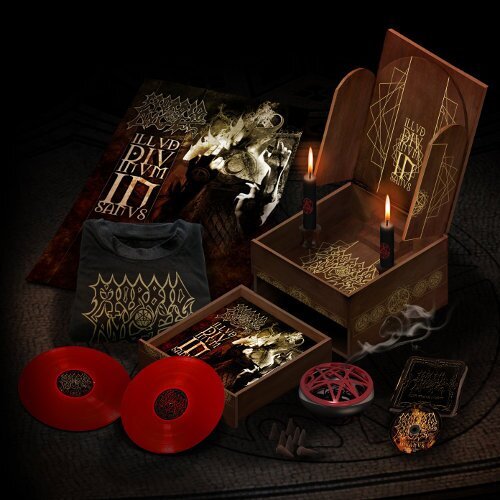 View Morbid Angel