MORBID ANGEL – Illud Divinum Insanus – September 18, 2012
Posted on September 18, 2012
More information about Illud Divinum Insanus
As previously announced, seminal extreme metallers MORBID ANGEL will embark on a one-month North American tour with DARK FUNERAL, GRAVE and VADIM VON on selected dates. The tour kicks off this Friday in Atlanta, GA and will go on as follows:
21 Sep 12 Atlanta, GA (US) The Masquerade
22 Sep 12 Louisville, KY (US) Headliner's Music Hall
23 Sep 12 Columbus, OH (US) Screamin Willie's
24 Sep 12 Washington, DC (US) Howard Theater
26 Sep 12 New York City, NY (US) B.B. King's
27 Sep 12 Pittsburgh, PA (US) Altar Bar
28 Sep 12 Philadelphia, PA (US) The Trocadero
29 Sep 12 Worcester, MA (US) The Palladium
30 Sep 12 Montreal, QC (CA) Club Soda
01 Oct 12 Toronto, ON (CA) Opera House
02 Oct 12 Cleveland, OH (US) Peabody's
04 Oct 12 Joliet, IL (US) Mojoe's
05 Oct 12 St. Paul, MN (US) Station 4
06 Oct 12 Des Moines, IA (US) Peoples Court
07 Oct 12 Englewood, CO (US) Gothic Theater
08 Oct 12 Salt Lake City, UT (US) The Complex
10 Oct 12 Seattle, WA (US) El Corazon
11 Oct 12 Portland, OR (US) Hawthorne Theater
12 Oct 12 San Francisco, CA (US) Slim's
13 Oct 12 Sacramento, CA (US) Ace Of Spades
14 Oct 12 Anaheim, CA (US) The Grove
15 Oct 12 Tempe, AZ (US) Marquee Theatre
17 Oct 12 Dallas, TX (US) Trees
18 Oct 12 Houston, TX (US) Scout Bar
19 Oct 12 San Antonio, TX (US) Backstage Lounge
21 Oct 12 St. Petersburg, FL (US) State Theatre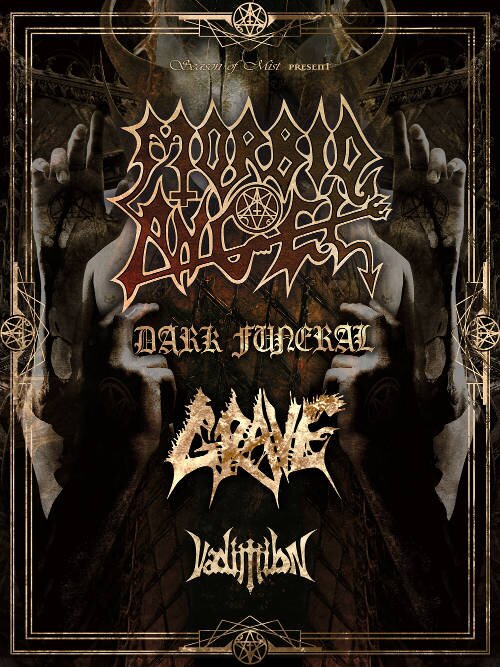 All formats of MORBID ANGEL's latest album "Illud Divinum Insanus", including the foldout wooden triptych box at special price, are available on Season of Mist's e-shop.
View Morbid Angel