MORBID ANGEL – Illud Divinum Insanus – November 6, 2014
Posted on November 6, 2014
More information about Illud Divinum Insanus
MORBID ANGEL are about to kick off their special European tour! This is your once in a lifetime chance to see the legendary death metal outfit celebrate the 20th anniversary of their milestone release 'Covenant' by performing the complete album live. We strongly recommend to get tickets early. A full list of shows can be viewed below.
The brutalisers from Florida will embark on their long road-trip in Rennes (FR) on November 8th and continue to blast stages all over Europe until their final show in Oslo (NO) at the Vulkan Arena on December 20th.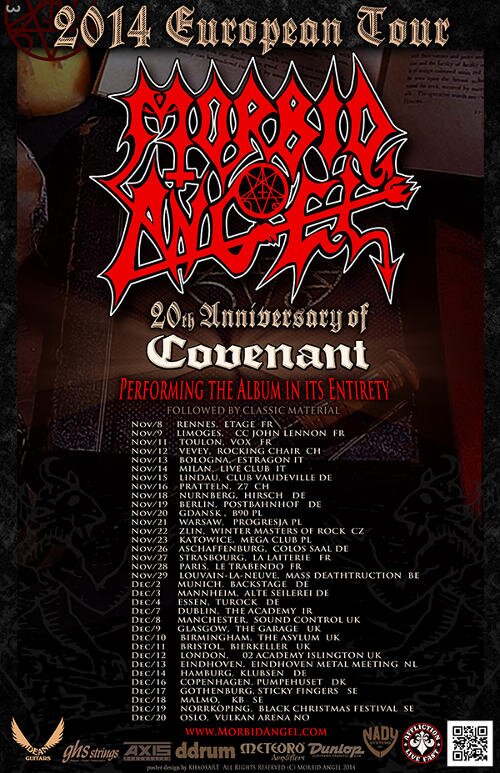 08 Nov 14 Rennes (FR) Etage
09 Nov 14 Limoges (FR) CC John Lennon
11 Nov 14 Toulon (FR) Vox
12 Nov 14 Vevey (CH) Rocking Chair
13 Nov 14 Bologna (IT) Estragon
14 Nov 14 Milan (IT) Live Club
15 Nov 14 Lindau (DE) Club Vaudeville
16 Nov 14 Pratteln (CH) Z7
18 Nov 14 Nürnberg (DE) Hirsch
19 Nov 14 Berlin (DE) Postbahnhof
20 Nov 14 Gdansk (PL) B90
21 Nov 14 Warszawa (PL) Progresja
22 Nov 14 Zlin (CZ) Hala Euronics (Winter Masters Of Rock)
23 Nov 14 Katowice (PL) Mega Club
26 Nov 14 Aschaffenburg (DE) Colos Saal
27 Nov 14 Strasbourg (FR) La Laiterie
28 Nov 14 Paris (FR) Le Trabendo
29 Nov 14 Louvain-la-Neuve (BE) La Ferme du Bireau (Mass Deathtruction Festival)
02 Dec 14 München (DE) Backstage
03 Dec 14 Mannheim (DE) Alte Seilerei
04 Dec 14 Essen (DE) Turock
07 Dec 14 Dublin (IR) The Academy
08 Dec 14 Manchester (UK) Sound Control
09 Dec 14 Glasgow (UK) The Garage
10 Dec 14 Birmingham (UK) The Asylum
11 Dec 14 Bristol (UK) Bierkeller
12 Dec 14 London (UK) 02 Academy Islington
13 Dec 14 Eindhoven (NL) Effenaar (Eindhoven Metal Meeting)
14 Dec 14 Hamburg (DE) Klubsen
16 Dec 14 København (DK) Pumpehuset
17 Dec 14 Göteborg (SE) Sticky Fingers
18 Dec 14 Malmö (SE) KB
19 Dec 14 Norrköping (SE) Black (Christmas Festival Flygeln)
20 Dec 14 Oslo (NO) Vulkan Arena
The latest MORBID ANGEL album 'llud Divinum Insanus' is still available through the Season of Mist shop in various formats including a massive limited edition collectors' box. Tracklist and artwork are shown below.
Omni Potens
Too Extreme!
Existo Vulgoré
Blades for Baal
I Am Morbid
10 More Dead
Destructos VS the Earth / Attack
Nevermore
Beauty Meets Beast
Radikult
Profundis - Mea Culpa
View Morbid Angel