SEPTICFLESH – The Great Mass – March 1, 2011
Posted on March 1, 2011
More information about The Great Mass
Greek demons SEPTICFLESH will perform a headliner show at the Chaulnes Metal Fest (FR) on next April 23rd. This show will be very special insofar as all original members of the band will be on stage. That means that Sotiris Anunnaki V. (guitars / melodic vocals) will play in France for the first time in 12 years! The man's live appearances are very rare due to obligations in Greece and this will be one of the few exceptions to the rule. Be there for an exquisite Mass…
Sotiris comments: "At last, after 12 long years of absence from the stages of France, I have the great pleasure to announce that I will soon come back, for a special SEPTICFLESH headlining show on Chaulnes Metal Fest. So join me and the other SEPTICFLESH members, on Saturday, April 23rd for a Mass of Death where we will perform the new psalms, but also some favourite old material that was handpicked by our fans specifically for this occasion!"
As previously announced, the main artwork of "The Great Mass" will be unveiled through eight steps leading to the release of the album which is scheduled for April 18th. Check out SEPTICLFESH's official website every week to discover it!
Here is the third part of the studio story, by Hard Rock Mag editor Sven Letourneur.
PART III – G(r)eek zone & Actual recording of the songs
Can you tell us more about the hardware you used, recording desk, how everything was set up in the studio, what instruments, microphones, guitar sounds you chose and so on? Were you helped by someone from outside the band for all that or did you work alone?
Fotis (drums): We used Avalon and Focusrite preamps for the recording and had the chance to check all of our instruments. We ended up using a Washburn (Paul Stanley signature model) and a Gibson (Les Paul Classic 60's) for the rhythm parts, and for clean and crunchy parts we used PRS and Parker guitars. On the drums I got help from my brother Steve Venardo whom I trust and with whom I also already recorded many times. On the guitars and bass it was me and George Emmanuel from Valet Parn who made all the recs. BUT… Even if we used a powerful amp combination – Engl and 5150 (EVH) – Peter (Tägtgren) didn't like our guitar sound at all and re-amped all of our guitars with a Marshall custom modified model that he owns. I really like that sound… It has nothing to do with Marshall to be honest… This one sounds killer…
Fotis, you told me about the "hellblast" on one song. Can you explain this sort of blast beat played with the left foot hammering a vertical snare drum on the floor and the right foot hitting the bass drum? Did you invent this technique?
"Hellblast" is the evolution of an idea I had few years ago. Initially, I started performing this drum technique in gigs, without thinking of using it for recording purposes. It's basically a variation of the normal "blast-beat", where the main difference is that the blast is performed by one foot only. Most drummers play blasts using both feet. By doing it with my right foot, I have the opportunity to use my left foot to kick a second snare that is positioned there vertically, exactly like a bass drum. And so I have both of my hands free to play even more notes on the drum kit, making fills without stopping the frenzied beat. After our U.S./Canada tour with Behemoth, where I witnessed the reaction of the crowd to the "hellblast". I thought that it would be nice to present how it is done and, why not, give the "tip" to new drummers that are looking for some new stuff. I used this technique on the recordings of the song "Apocalypse" and I really like how it sounds…
When did you start the actual recordings and how much time did it take?
The recordings took place at the studio that I own with Chris, and that has proven to be a really good move. Having your own equipment available without time restrains is definitely a plus. Especially for me, having the opportunity to use my own drum kit and abundance of time to improvise even more than in the previous album was something great. Even when I recorded a good take, I could return later and try something else and then I could decide which take or kind of playing would be the best option for a song. When you book a studio, your given time is limited. So you must have all your ideas written down and there's no time to be spared for trying different things. The drums were recorded in five days starting at the end of July (2010) while at the beginning of August we started recording the rhythm guitars. Late September we recorded the bass. After recording all the band's instruments, we took the recorded orchestra parts from the Filmharmonic orchestra of Prague and had to figure out and make the final arrangements. That means that in some occasions we had to remove parts played by rhythm or lead guitars in order to let the dramatic "colours" of the orchestra and the choir stand out. We made a rough mix, and finally arranged and recorded the clean vocals of Sotiris and the brutal growls of Seth. So the actual time that this album needed in order to be recorded was around two months.
Can you let us know more about the people who helped you around in the studio for the recordings? I think your live guitar player was around with you?
Christos: No, it's our guitar technician who helped us a lot in our recordings. He made the majority of them plus the editing.
Also, some additional vocals (like Chaostar singer Androniki's) were recorded in Greece. Can you tell us who is featured on the new album and who does what?
Yes, Androniki sang on three songs of the album. Her contribution was great. Although she is an opera singer, she didn't sing this way, I had in mind something more of Lisa Gerrard's style for her and her approach was unique. Iliana from a Greek band called Meden Agan also sang on one song. She is a coloratura singer and we needed tragic moments full of tension in our music. Iliana was the appropriate person for this section. Also we used some bizarre ethnic instruments performed by George Diamantopoulos, an excellent musician who will be very soon a member of Chaostar.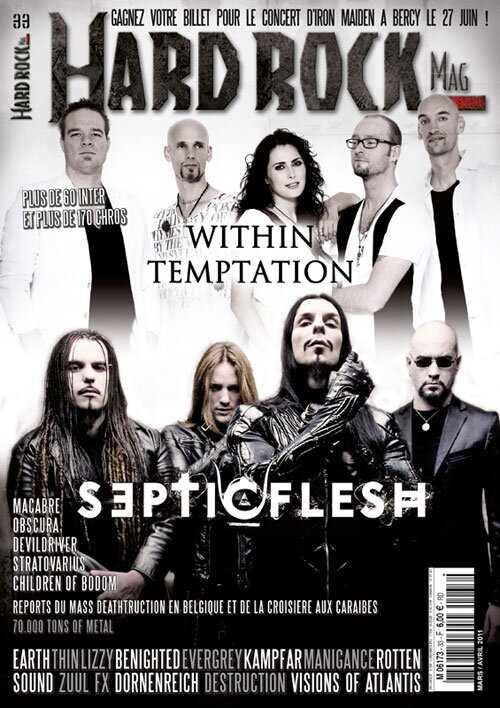 View Septicflesh