SEPTICFLESH – Codex Omega – January 8, 2018
Posted on January 8, 2018
More information about Codex Omega
In advance of their massive European tour, SEPTICFLESH have released a pro-shot clip for the track "Martyr", taken from their latest masterpiece, 'Codex Omega', which has been directed by long-time collaborator Jon Simvonis. The video and tour dates can be viewed below.
Watch the new SEPTICFLESH video via the official Season of Mist YouTube channel here!
SEPTICFLESH commented: "We are welcoming the new year by releasing a second video from our latest album, 'Codex Omega' – this time for the song, 'Martyr'. Once again, the clip is directed by Jon Simvonis, blending the music of SEPTICFLESH with Kendo, which literally means 'the way of the sword'. It is a battle of sword and spirit. The ultimate goal of the fighter is to become superior to his own previous self."
Director Jon Simvonis added: "We really had an awesome time filming SEPTICFLESH while they were delivering an explosive performance for the 'Martyr' video! No wonder, why this band nails it on every stage that they set foot on."
SEPTICFLESH have already kicked off their massive European together with label mates and American black metal trailblazers INQUISITION.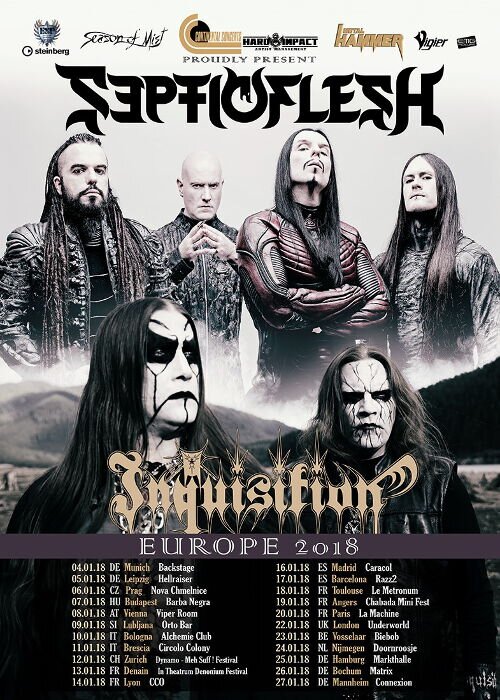 SEPTICFLESH + INQUISITION
08 Jan 18 Wien (AT) Viper Room
09 Jan 18 Ljubljana (SI) Orto Bar
10 Jan 18 Bologna (IT) Alchemie Club
11 Jan 18 Brescia (IT) Circolo Colony
14 Jan 18 Lyon (FR) Cco Jean Pierre Lachaize
16 Jan 18 Madrid (ES) Sala Caracol
17 Jan 18 Barcelona (ES) Razzmatazz
18 Jan 18 Toulouse (FR) Le Metronum
20 Jan 18 Paris (FR) La Machine du Moulin Rouge
22 Jan 18 London (UK) The Underworld
23 Jan 18 Vosselaar (BE) Biebob
24 Jan 18 Nijmegen (NL) Doornroosje
25 Jan 18 Hamburg (DE) Markthalle
26 Jan 18 Bochum (DE) Matrix
27 Jan 18 Mannheim (DE) MS Connexion Complex
SEPTICFLESH Festival Shows
12 Jan 18 Zürich (CH) Meh Suff! Winter-Fest 2018
13 Jan 18 Denain (FR) In Theatrum Denonium Festival
19 Jan 18 Angers Le Chabada (FR) Angers Mini Fest
03 Feb 18 Fort Lauderdale, FL (US) 70000 Tons of Metal
27 Apr 18 Stockholm (SE) Stockholm Slaughter (exact date tbc)
23 Jun 18 Clisson (FR) Hellfest (exact date tbc)
SEPTICFLESH are touring in support of their latest masterpiece, 'Codex Omega'. The artwork has been created by frontman Seth and can be viewed below.
Dante's Inferno
3rd Testament (Codex Omega)
Portrait of a Headless Man
Martyr
Enemy of Truth
Dark Art
Our Church, Below the Sea
Faceless Queen
The Gospels of Fear
Trinity
'Codex Omega' can still be ordered in various formats including limited editions from the Season of Mist shop!
Join SEPTICFLESH on their official Facebook page!
View Septicflesh