SEPTICFLESH – Codex Omega – October 16, 2017
Posted on October 16, 2017
More information about Codex Omega
SEPTICFLESH have announced a big European tour in support of their latest masterpiece, 'Codex Omega'. The Greek masters of symphonic death metal will be joined by label mates and American black metal trailblazers INQUISITION. A full list of confirmed shows can be found below.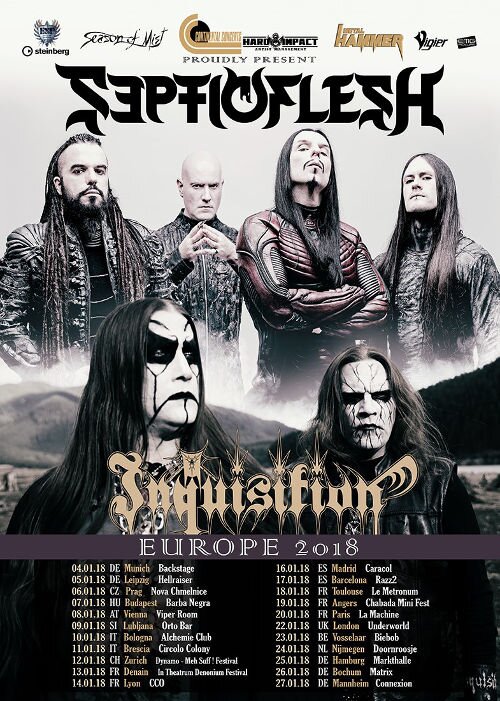 SEPTICFLESH European Tour + INQUISITION
04 Jan 18 München (DE) Backstage
05 Jan 18 Leipzig (DE) Hellraiser
06 Jan 18 Praha (CZ) Klub Nová Chmelnice
07 Jan 18 Budapest (HU) Barbara Negra
08 Jan 18 Wien (AT) Viper Room
09 Jan 18 Ljubljana (SI) Orto Bar
10 Jan 18 Bologna (IT) Alchemie Club
11 Jan 18 Brescia (IT) Circolo Colony
14 Jan 18 Lyon (FR) Cco Jean Pierre Lachaize
16 Jan 18 Madrid (ES) Sala Caracol
17 Jan 18 Barcelona (ES) Razzmatazz
18 Jan 18 Toulouse (FR) Le Metronum
20 Jan 18 Paris (FR) La Machine du Moulin Rouge
22 Jan 18 London (UK) The Underworld
23 Jan 18 Vosselaar (BE) Biebob
24 Jan 18 Nijmegen (NL) Doornroosje
25 Jan 18 Hamburg (DE) Markthalle
26 Jan 18 Matrix (DE) Bochum
27 Jan 18 Mannheim (DE) MS Connexion Complex
SEPTICFLESH Festival Shows
02 Dec 17 Beirut (LB) Minus 5
12 Jan 18 Zürich (CH) Meh Suff! Winter-Fest 2018
13 Jan 18 Denain (FR) In Theatrum Denonium Festival
19 Jan 18 Angers Le Chabada (FR) Angers Mini Fest
On other news, SEPTICFLESH have released the third part of their "the making of 'Codex Omega'" series. This time, the Greek masters of symphonic death metal allow a fascinating glimpse behind the scenes of their vocal recordings. You can watch the video on the official Season of Mist YouTube channel.
SEPTICFLESH will be touring in support of their latest release 'Codex Omega' which already has been named "album of the month" by Spark Magazine (CZ), Scream Magazine (NO), Ultraje (PT), and Ghostcult Magazine (UK) among other high praise. The artwork for 'Codex Omega' has been created by frontman Seth and can be viewed below.
Dante's Inferno
3rd Testament (Codex Omega)
Portrait of a Headless Man
Martyr
Enemy of Truth
Dark Art
Our Church, Below the Sea
Faceless Queen
The Gospels of Fear
Trinity
'Codex Omega' can still be ordered in various formats from the Season of Mist shop
Join SEPTICFLESH on their official Facebook page!
View Septicflesh