ARKAN – Salam – March 1, 2011
Posted on March 1, 2011
More information about Salam
ARKAN's sophomore album "Salam" will hit the stores on April 18th. The band posted a video teaser about this new gem of Oriental Death Metal. Go watch it on YouTube!
Here is an exclusive interview with drummer and founding member Foued Moukid:
What has happened since the release of your first album "Hilal"?
Since our first album "Hilal" we performed several concerts. These shows have brought us from Paris through Rotterdam to Tunis. In 2009, we had the pleasure to share the stage with our friends of SEPTICFLESH on a dozen of fantastic dates where we communed around common pleasures. SF's music is so rich that the audience of the tour was receptive to our universe. Every night, the feedback on the stage and after the concert was surprising. In 2010, we had the chance to tour with the band we consider to be the origin of many things in our style – Orphaned Land. Needless to say that this represents a culmination of music to share the stage with musicians of this stature. And on this tour, of course the audience was 100% receptive to our music. This tour against racism was more than symbolic, it had a real sense. Our relationship with the band was great and friendly before we even met. On the heels of the tour, we focused on one goal: to compose a worthy successor to our first album, who had delighted the international criticism. We just knew it would be very difficult. We were already there, far from reality.
How was the songwriting process of "Salam"?
This album is definitely the hardest thing I ever had to do. From the composition of the first titles and the recording sessions at Fredman, it took seven months. Seven months of pressure, rehearsal and composition. We ended up with 30 songs, a lot of which we had to throw away. The goal was to keep only 13 tracks for the album. In September, we had our 13 songs but the hardest part was yet to come since songwriting is but a small part of the process and arrangements are a big thing to deal with. In order for every instrument to have enough room, you have to include them both musically and technically. We couldn't take the chance to neglect a guitar chord or a cymbal hit. We then had to make sure all technical parts on the album could be heard. It's not about showing of our skills, it's more about using those to serve the oriental metal musicality. Two months and a half later, we were on the plane to the studio, with demos in our suitcases.
How did your collaboration with Kobi Farhi of ORPHANED LAND?
I had been thinking about this featuring for a while. So when we were writing the "Deus Vult" song, I suggested to the guys that we could include Kobi's various voices in the songwriting process. Symbolically, deus vult means "God wants it". In Arabic the expression is particularly strong ("Inch Allah"), and I found it interesting to start this title in Hebrew. I then contact Kobi if he was willing to take part to the creation of the album which was full of symbols – up to the title "Salam", which means "peace". He was immediately excited and accepted without the slightest hesitation. I then sent him a demo that we had recorded in August and which arrangements were not even complete yet. He recorded his parts in Tel Aviv, and when we got the result, we knew that the album had to live up to the work Kobi had provided. And to be honest, this song still moves me to this day.
Why did you return to Studio Fredman? How did Fredrik Nordström work on this new album?
First, we are a loyal band and we were so pleased with our first collaboration with Fredrik that we contacted him early 2010 to tell him that we wanted to record with him again. He immediately accepted. Once in the studio, we talked about the sound we wanted. Of course we are proud of the sound of "Hilal", but for the new album where musicality is predominant, we wanted a sound made by and for us. Because of our past experience, he trusted us from day one. In the end, our efforts were rewarded. The album has a more organic sound, very close to the "live sound". Regarding the recording process, unlike "Hilal" for which we have not changed a note between the demo and the final recording, we were open-minded about the creation of "Salam". We thus ended up with an album that is closer to our emotional state at the time. The guitar lines are more melancholic and the drum patterns are more energetic.
What is the subject of your new album?
"Salam" is a generic term that we tend to associate with "hello". It is also linked to the Hebrew words "shalom" and "Salem". All three have to do with a state of peace. First we had to make it clear that we are an not Islamic band, contrary to what we read on several forums. We are not a religious band. Next, we wanted to send a message to our fans who live in Middle Eastern and Arabic countries. It is important for us to send a message of tolerance among young people who may be influenced and indoctrinated. And events currently taking place in most of these countries only strengthen our will to give a message of tolerance and peace Last but not least, we were keen on continuing to support the concept of a "tour against racism". Arabs and Jews on the same stage, who have fun together, feeling pleased to play their original music from their guts… This album is a continuation of this message of peace and tolerance that we spread every night and will continue to propagate.
A few words about Ader who left the band?
Abder, our first guitarist / singer decided to quit the adventure before the release of this album. We entered the studio together and he was of great psychological help with his ability to unclench the situation when things got a bit tense. He was a real friend. But in Göteborg, he expressed his will to focus on his personal life and we decided to give him our support. Sarah then ended up recording all clear vocal parts of "Salam", with the difficult task of filling in the shoes of an excellent singer in short notice. Sarah's takes are nonetheless breathtaking. To me, Abder was both a close friend and a key member of the band. We share both hard times and great times. He was there when for the important events of my life (like the birth of my son) and the composition of Arkan's two albums. For all these reasons, I wish him all the best for the future… Only mountains can't meet? on stage!
What are your plans after the release of "Salam"?
Now that the hardest part is behind us, we can focus on the rest. We are currently working on upcoming gigs, and the next one will be the most symbolic because it will take place in Casablanca (Morocco), on May 14th. Symbolic insofar as it is the country where my parents are from. And Metal has a special place there. There was a time when young people playing black metal were kept locked up there. Fortunately things have changed… We are also working on a video clip that we want to achieve for the release of the album. So stay tuned!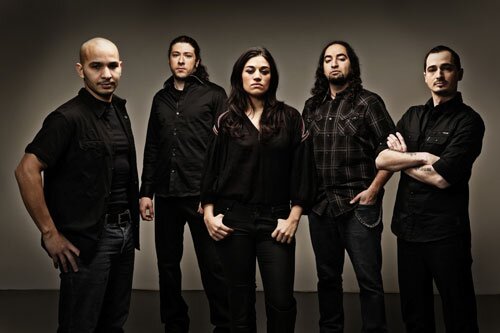 "Salam" will be available in digipak edition limited to the first pressing and can be pre-ordered on Season of Mist's e-shop.
View Arkan