MAYHEM – Psywar – February 19, 2014
Posted on February 19, 2014
More information about Psywar
Norway's black metal legends MAYHEM have returned! Extreme metal's most infamous band will release their long-awaited new album on May 23rd (May 27th in North America). Entitled 'Esoteric Warfare', MAYHEM's fifth full-length will be the follow-up to 2007's critically acclaimed 'Ordo Ad Chao'. 'Esoteric Warfare' will be preceded by the release of new single "Psywar" as a 7" vinyl on April 25th (April 29th in North America). A lyric video of the song is streaming at the following locations:
Decibel (US)
Inferno (FI)
Lords of Metal (NL)
Loud (PT)
Metal Hammer (DE)
Metal Hammer (UK)
NRK Pyro (NO)
Rock Overdose (GR)
This Is Rock (ES)
VS Webzine (FR)
The B-side of the 'Psywar' 7″ vinyl is made of the "From Beyond the Event Horizon" demo, a non-album track taken from the band's 2012 Budapest sessions. The single will come in different editions featuring art from Zbigniew Bielak (WATAIN, GHOST, BEHEMOTH) and Costin Chioreanu (ULVER, VADER, IHSAHN). 'Psywar' will be pressed across several different coloured vinyl editions, all limited to 500 copies and already available for pre-order at Season of Mist's e-shop. Here are all four versions: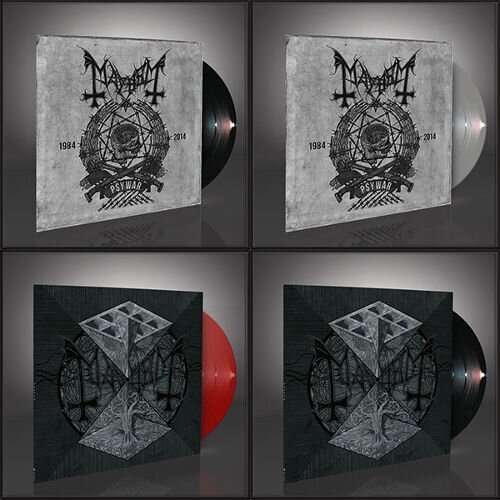 The Zbigniew Bielak edition (top row) is numbered and the Costin Chioreanu edition (bottom row) is also available as a vinyl + T-shirt bundle.
2014 sees MAYHEM welcome the 30th anniversary of the single most notorious and important band in the history of black metal. With the band's four revolutionary full-lengths, a legacy of boundless extremity, and an ethic rooted firmly in the principle of no compromise, MAYHEM are the archetype that three generations of black metal bands follow as law. After a 30 year history, MAYHEM reign as kings of the underground; ensuring that their shadow will be cast not just over the first 30 years of an entire genre to date, but for the next 30 years to come as well. MAYHEM is the Alpha and the Omega of black metal. MAYHEM's new full length showcases a band who follow their own path in extreme music, one that is equally violent and turbulent.
2014 will also see the reissue of the iconic and controversial 'Grand Declaration of War', originally released in 2000. The album will be backed by 2001's 'European Legions' CD, made of live tracks and pre-production versions of songs from 'Grand Declaration of War'. Here are the cover artwork and track listing of the 2-disc reissue:
A Grand Declaration Of War
In The Lies Where Upon You Lay
A Time To Die
View From Nihil
A Bloodsword And A Colder Sun
Crystalized Pain In Deconstruction
Completion In Science of Agony
To Daimonion

Silvester Anfang / Fall Of Seraphs
Carnage
View From Nihil
To Daimonion
Freezing Moon
Chainsaw Gutsfuck
Pure Fucking Armageddon
To Daimonion
View From Nihil
In The Lies Where Upon You Lay
Crystalized Pain In Deconstruction
Completion In Science of Agony
The re-release of 'Grand Declaration of War' can be pre-order on Season of Mist's e-shop.
So yes, MAYHEM and Season of Mist are teaming up again, 15 years after the inception of their collaboration.
"We were chilling at this brothel in France after a gig", the band comments. "Suddenly, coming out from one of the dungeon rooms, we saw a well known, oddly shaped figure. Of course we started to have a "few" drinks with the bastard, and the rest of the night is a black hole. In the morning we woke up with a new contract between us and Season of Mist. The rascal tricked us, AGAIN!"
Season of Mist chairman Michael Berberian adds: "When the question was raised to work with Mayhem again, I thought to myself "Oh please, not again". I mean, that girl was pretty in the 90's, but since then years of drugs, party and abuse took their toll. But nevertheless, for old times' sake, and also remembering that chick always delivered, we made an offer. And we added a dental plan, knowing that would make the difference as they are getting in THAT age…"
View Mayhem