GHOST BRIGADE – IV – One With The Storm – October 16, 2014
Posted on October 16, 2014
More information about IV - One With The Storm
Critically acclaimed Finnish melancholic metal band GHOST BRIGADE are currently premiering two new songs from their highly anticipated new full-length 'IV – One with the Storm', which has been scheduled for release on November 7th (November 11th in North America). On further news, the band has announced a string European shows in February 2015. Streaming links and all dates can be viewed below.
The track "The Knife" is still being featured in the US by Decibel and can be listened to here. In Europe and other parts of the world, the following official media partners are exclusively streaming the song "Electra Complex":
Rockzone (ES)
Inferno (FI)
VS-Magazine (FR)
Rock Hard (DE)
Rockoverdose (GR)
Kronos Mortus (HU)
Metal Wani (IN)
Marunouchi Muzik (JP)
Metal Hammer (NO)
Metal Hammer (UK)
The band comments: "We wrote 'Electra Complex' as one the first songs for this album and I really think it's a big step forward for us as far as arrangements and 'building tension before release' goes", writes guitarist Wille. "I recently read a comment from someone who heard the album that listening to this song was like being on a journey and I couldn't agree more. Just when you thought you've heard it all it changes to something completely different and takes you to a new place. It might just be the first piece we've ever written that really shows the many faces of Ghost Brigade in one song. Put your headphones on, close your eyes, press play…"
Previously GHOST BRIGADE have released three teaser videos. The first clip of this series can still be viewed here, the second witchy teaser there and the final third act at this location.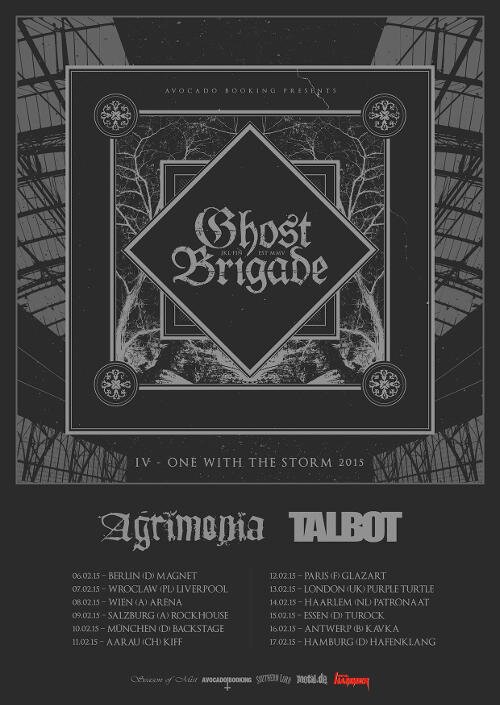 GHOST BRIGADE have announced a string of European concerts for February 2015. The Finnish masters of melancholic heaviness will be joined by AGRIMONIA from Sweden and Estonian TALBOT. The tour, presented by the German edition of Metal Hammer and Metal.de, will kick off in Germany at the Magnet, Berlin on February 6th and runs through seven more countries until a final show in Hamburg on the 17th of February. You can find a full list of confirmed dates below.
06 Feb 15 Berlin (DE) Magnet
07 Feb 15 Wroclaw (PL) Liverpool
08 Feb 15 Wien (AT) Arena
09 Feb 15 Salzburg (AT) Rockhouse
10 Feb 15 München (DE) Backstage
11 Feb 15 Aarau (CH) Kiff
12 Feb 15 Paris (FR) Glazart
13 Feb 15 London (UK) The Purple Turtle
14 Feb 15 Haarlem (NL) Patronaat
15 Feb 15 Essen (DE) Turock
16 Feb 15 Antwerpen (BE) Kavka
17 Feb 15 Hamburg (DE) Hafenklang
The band comments: "Friends! We are excited to announce our first European tour in three years for February 2015! We will bring great support bands with us, which both released excellent new albums and have been in heavy rotation among GHOST BRIGADE members. AGRIMONIA, feature members from AT THE GATES, MARTYRDÖD and more, come from Gothenburg, Sweden. TALBOT are a sludgy duo from Tallinn, Estonia. We saw these guys recently live and well… we had no other choice but to ask them to come on tour with us. Great band, period. See you all in February!"
Wretched Blues
Departures
Aurora
Disembodied Voices
Electra Complex
Stones And Pillars
Anchored
The Knife
Long Way To The Graves
Elämä On Tulta
'IV – One with the Storm' will be released as a Digipak CD with bonus tracks, deluxe clamshell box with double LP and bonus 7″, various coloured LP formats, regular CD, and merchandising. The bonus tracks on the limited Digipak and the bonus 7″ are remixes of "Long Way To The Graves" and "Disembodied Voices" by Jonny Wanha, who previously remixed "In the Woods" (from previous album 'Until Fear No Longer Defines Us') in 2012. All formats are now available for pre-order!.
View Ghost Brigade