GHOST BRIGADE – IV – One With The Storm – October 30, 2014
Posted on October 30, 2014
More information about IV - One With The Storm
Finnish melancholic metallers GHOST BRIGADE are exclusively streaming their highly acclaimed new album 'IV – One with the Storm' via these official media partners:
SFMedia (AU)
Spiegel Online (DE)
Rockzone (ES)
Soundi (FI)
Radio Metal (FR)
Rockoverdose (GR)
Metal Wani (IN)
Metalitalia (IT)
Marunouchi Muzik (JP)
Metal Hammer (NO)
Loud! (PT)
Metal Hammer (UK)
Revolver (US)
GHOST BRIGADE recently announced a string of European concerts for February 2015. The Finnish masters of melancholic heaviness will be joined by AGRIMONIA from Sweden and Estonian TALBOT. The tour, presented by the German edition of Metal Hammer and Metal.de, will kick off in Germany at the Magnet, Berlin on February 6th and runs through seven more countries until a final show in Hamburg on February 17th. You can find a full list of confirmed dates below.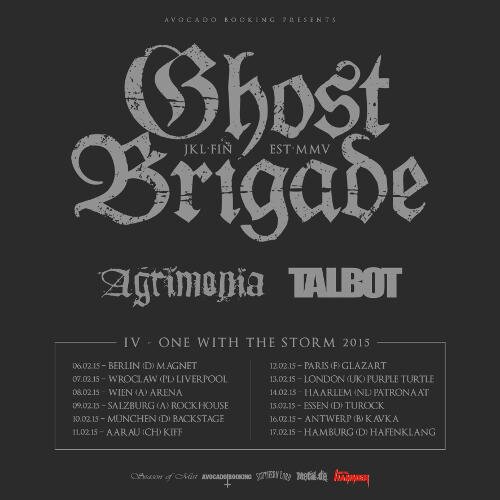 06 Feb 15 Berlin (DE) Magnet
07 Feb 15 Wroclaw (PL) Liverpool
08 Feb 15 Wien (AT) Arena
09 Feb 15 Salzburg (AT) Rockhouse
10 Feb 15 München (DE) Backstage
11 Feb 15 Aarau (CH) Kiff
12 Feb 15 Paris (FR) Glazart
13 Feb 15 London (UK) The Purple Turtle
14 Feb 15 Haarlem (NL) Patronaat
15 Feb 15 Essen (DE) Turock
16 Feb 15 Antwerpen (BE) Kavka
17 Feb 15 Hamburg (DE) Hafenklang
Wretched Blues
Departures
Aurora
Disembodied Voices
Electra Complex
Stones And Pillars
Anchored
The Knife
Long Way To The Graves
Elämä On Tulta
'IV – One with the Storm' has been scheduled for release on November 7th (November 11th in North America) and is already available for pre-order in various formats through the Season of Mist shop.
View Ghost Brigade